If you ask any of our local customers, I'm sure they'll agree that the seasonally themed installations that pop up in our flagship store must be seen in person to be believed. Our current red poppy theme for spring is certainly no exception! I sat down with our amazing Visual Merchandiser, Jacqui to chat about her inspirations on all things creative.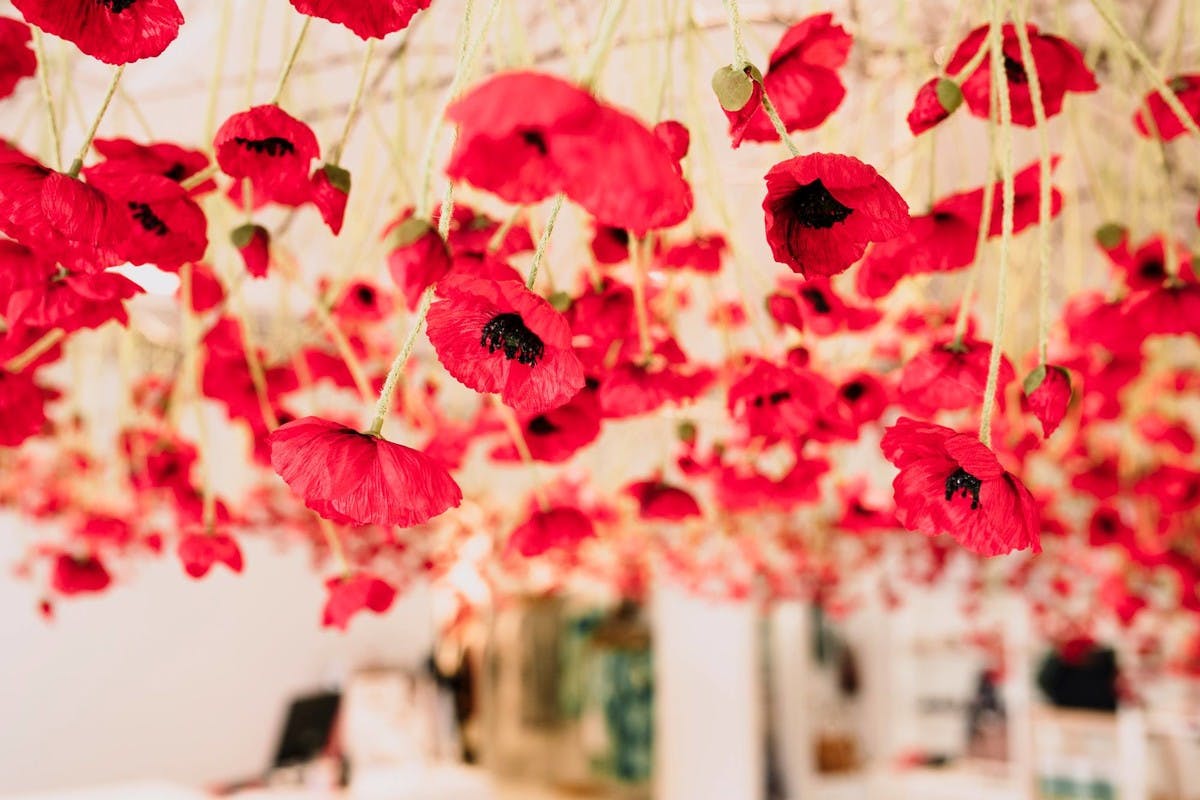 A moment with our Visual Merchandiser, Jacqui
1. Can you give us a brief outline of your career in merchandising and interior design?
I'm a very visual person and love a creative challenge! For the past 5 years I've been working as the in-house Visual Merchandiser here at birdsnest, where I create, design and implement seasonal themes for our flagship store herein Cooma, as well as Canberra and Thredbo where we have at times had 'pop up' shops. I also spend time liaising with the marketing and styling teams about seasonal trends and forecasts and try to reflect this when merchandising the shop.
I have Diplomas in Fashion and Interior Design and have operated my own Interior Decorating business for the past 14 years as well. I love skiing and winter themes and draw a lot of inspiration from our surroundings here in the Snowy Mountains. Much of the interior design work that I do is in local ski resorts, chalets and lodges, which lend themselves so well to the gorgeous textures and layers of 'wintery' interiors.
2. Have you always been creative?
Always! I am forever coming up with new ideas on how to create beautiful home interiors and storefronts. I love working with natural products and many of the themes we have designed for the birdsnest shop have featured this theme heavily, including wool, wheat, cacti and other flora native to the Snowy Mountains.
One of my favourite past times is to stroll around Sydney CBD and look at all the department store windows and merchandising displays. It drives my husband crazy! They are so inspiring and a great way to keep on top of what's trending.
I've also always loved photography. I can easily spend hours and hours on Pinterest looking at all the photographs and creating storyboards. I get a lot of my inspiration for visual merchandising from there.  
3. How did you come up with the theme for spring?
The theme for this spring in the store was inspired by our recent boho bird shoot which took place in Positano, Italy. With a lot of red featured throughout those images, I decided to follow on with this and create an installation of red poppies. As you can see in the photos, it's so eye-catching and is in true spring style with the use of flowers. One colour on 'mass' is always visually effective.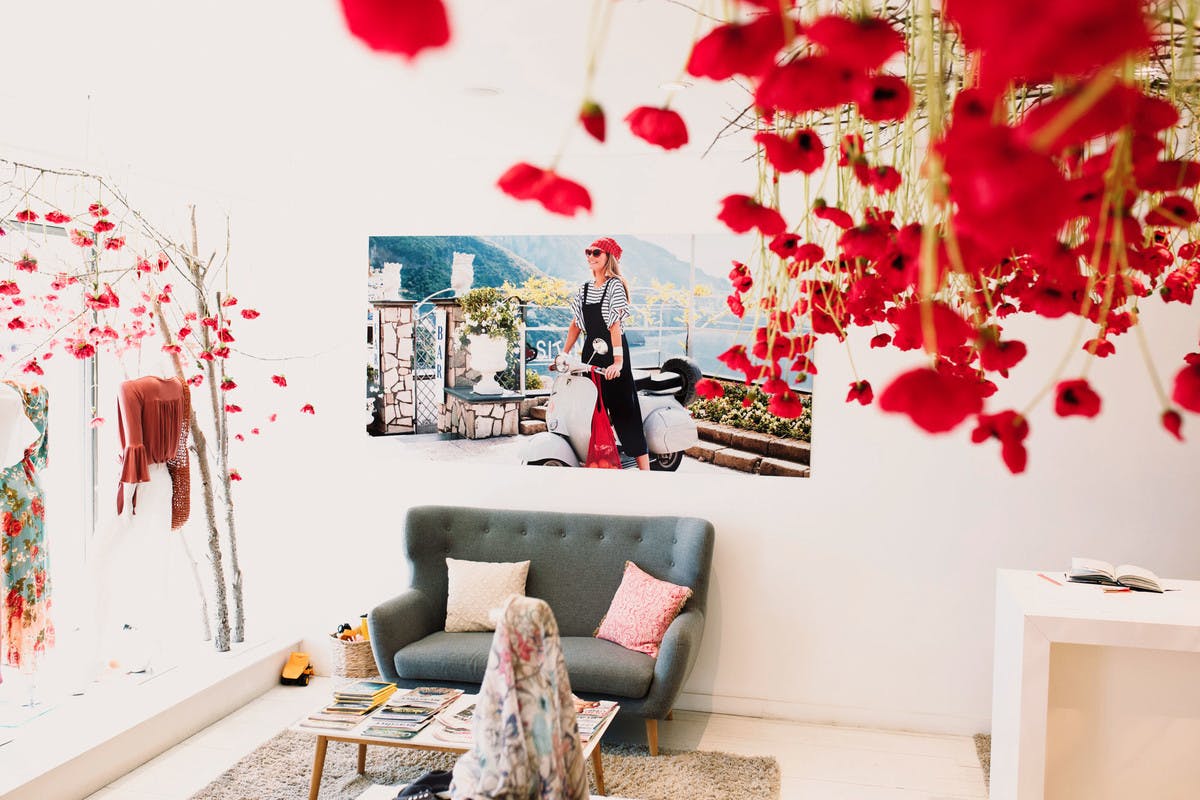 4. Where do you find inspiration and ideas?
I spend a lot of time researching and sourcing ideas. My main go-to's are browsing the shops, magazines, Pinterest and just observing nature. There are so many ideas just sitting out there amongst the paddocks and hills! Just the other day I was driving home from Canberra and saw a big tumbled up messy pile of barbed wire and thought, "I could work with that"...
I think the key is to pick a theme and run with it. And also not to don't forget to include all the senses, such as smell and touch which adds to the whole visual experience.
5. What is your favourite thing about decorating the store?
Seeing the reaction from the customers when they walk into the store is most definitely my favourite part. I get so much incredible feedback from everyone when they first see it, with many local ladies who come in especially just to see the new installation each season and get a photo! It also creates a beautiful and inspiring space to work in every day, which is a lovely little bonus.
6. Any sneaky hints for what's to come this summer?  
This year I think we'll still be seeing a lot of vintage-looks, up-cycling and natural products continue to dominate the trends.
Here in the nest, we'll be getting ready to install our big Christmas shopfront which is always an exciting time!
Our 'one and only' unique birdsnest store is in Cooma, Snowy Mountains NSW - just over one hour south of Canberra on your way to the snow or the South Coast.
You will find us at 232 Sharp Street which is on the main road as you make your way towards the mountains. In store you will find a selection of the latest  items on our website, however you can access items from our entire website by using exciting new technology in our store. Remember that you can shop online at home and choose 'In Store Pick Up' to have your selection waiting for you when you arrive at the store.  We look forward to meeting you in person when you stop in and say hello!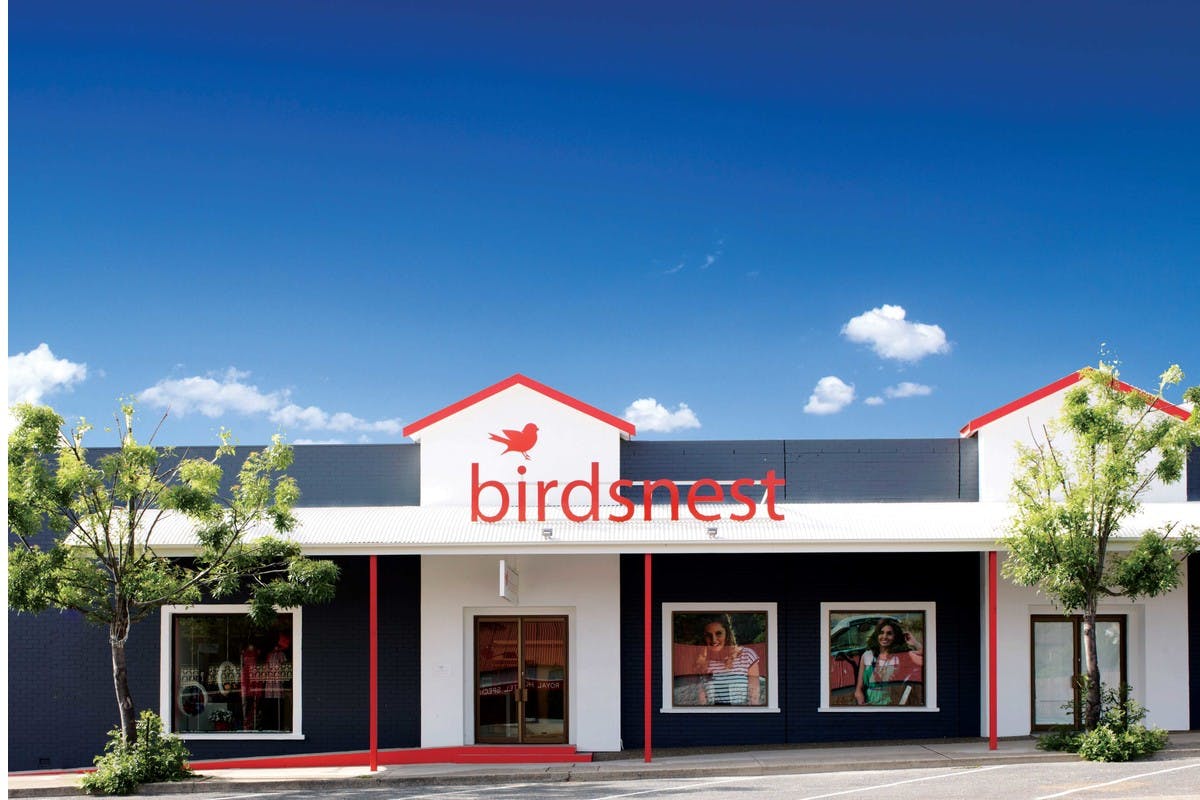 Store Opening Hours
Monday-Friday 10am - 5pm
Saturday 10am - 2pm
Sunday Closed
Love, Cielle and the birdsnest girls x