"WHAT WILL I WEAR TODAY?"
It's the age old question that can bring so much angst to our morning routine. EVERY SINGLE DAY. 
And more times than not, can end with "I'll just wear that again", as we reach for our trusted pair of jeans. And whilst there is nothing wrong with relying on those ever so faithful jeans time again (they are a wardrobe staple for good reason), the entire faith of your wardrobe does not have to rest solely on that one pair of jeans just because finding an alternative seems like a daunting task for first thing in the morning, one not even your morning coffee can help with. 
What if there was an all seeing, all knowing, 101 guide to putting together the perfect outfit? Something to help take the stress/angst/anxiety/dread out of the morning ritual of "What will I wear today?"
Well, drum roll please…..
birdsnest outfits page - 1000's of outfit ideas and inspiration for every lifestyle
Whether you classify yourself as a complete novice when it comes to the art of putting an outfit together, or you need a little extra inspiration for your ever faithful jeans and tee combo, maybe you have a special event coming up that you want a little extra "ooh-la-la" factor for, our carefully curated outfits page is the styling handbook you've been looking for.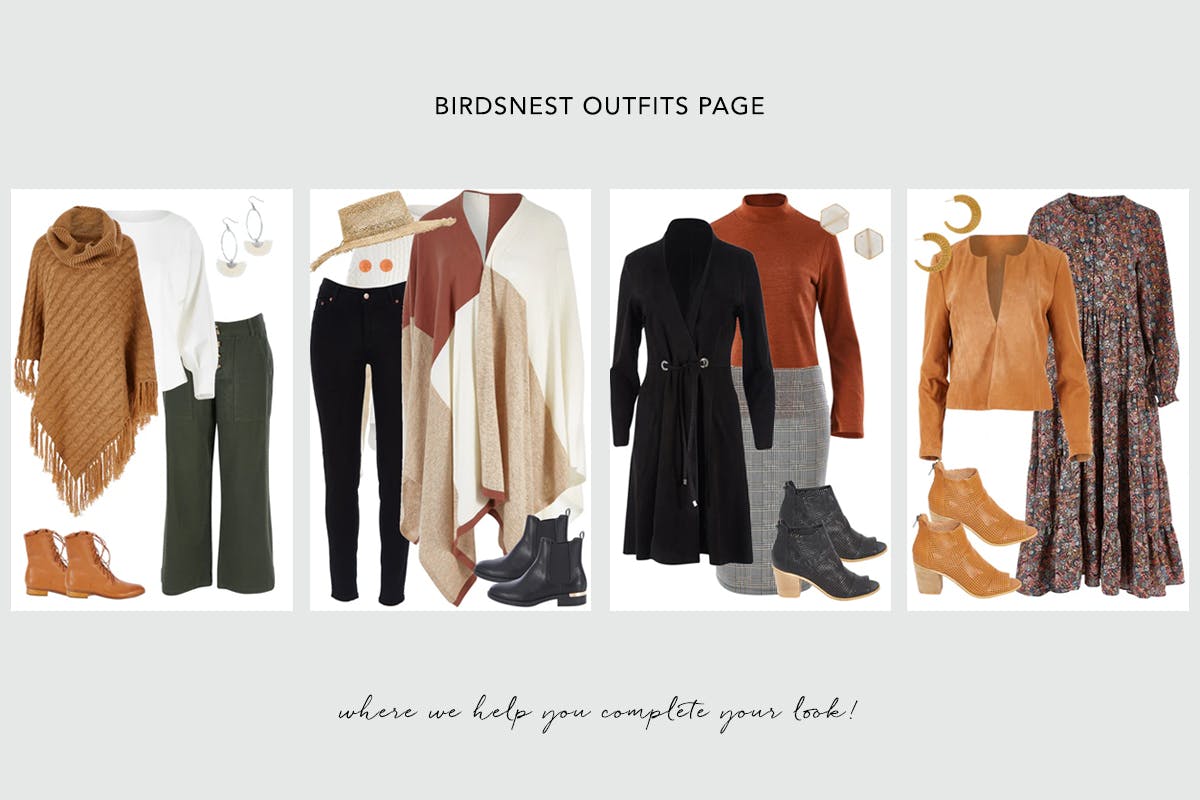 "I wish that every time I liked an outfit on Instagram it would magically appear in my wardrobe"
~ You. Me. Everyone.
Our wardrobe wingbirds are here to help simplify your dressing, so that you can walk out the door feeling confident in your outfit, and yourself, EVERY TIME. With over 1000 outfits to view, and new inspiration uploaded every day, you can browse and shop outfits that suit your style personality, body shape, or occasion. 
No more trying on 10 different outfit combinations in the morning only to find you return to the same one you wore the other day, no more envying that woman you see on social media or in the street for that oh-so-put-together look. And no more dreading and stressing over the morning ritual of deciding what to wear - take a look at our stress free outfit combinations and find the inspiration your wardrobe needs. 
OUTFIT GUIDE | How To Put Together The Perfect Outfit (Every Time)
Needing a quick outfit guide to help keep your morning routine on track? Here's our winning formula for putting together a winning outfit, every time.
STAPLE + ATTRACT + STATEMENT = WINNING OUTFIT
These are the foundation pieces that are found in every girls wardrobe, the basics if you will. Your staple go-to pieces that can be worn with almost anything. Now, they may differ depending on your lifestyle, personality or body shape, but the classic go-to's are always there:
White Tee
Denim Jeans
Black Pants
Button Up Shirt
Little Black Dress
Denim Jacket 
Knit or Cardigan 
Tan Heel/Boot/Flat
Black Heel/Boot/Flat
…… add or delete as you please! Fill your wardrobe with pieces that work for your figure, lifestyle and personality.
Something that has a little detail, draws some interest to your look, but isn't a stand out piece. Think of it as a complimentary piece, something to add a touch of subtle oh-la-la to your outfit. 
A coloured t-shirt in a block colour
A pastel coloured scarf
Dangling earrings
Leopard print shoes
Colour blocked belt and shoe combination
Oversized Bag
No introduction necessary, this is the show stopper piece that takes over your outfit - the piece that people notice. It doesn't have to be a bright bold colour, or an out there pattern, it can be as simple as a fabric choice - leather, lace, silk. Usually, it's the piece you build your entire outfit around.
STAPLE + ATTRACT + STATEMENT = WINNING OUTFIT
Sounds simple enough, right? Well it is! Build your outfit each morning (or evening if you really want a gold star) with this winning formula in mind and see how quickly and easily your outfit comes together. OK, let's see it in action shall we...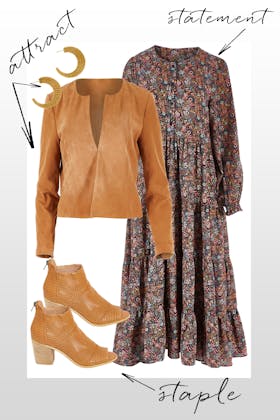 STATEMENT: Floral print, all over - it's a statement in romantic dressing. | ATTRACT: Ohh-la-laaaa, is that suede?  | STAPLE: Your pick-me-up, go to heel your wardrobe can't live without | Shop the outfit here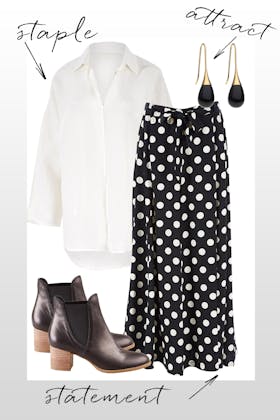 STAPLE: The trusted white linen shirt can do no wrong | ATTRACT: Add a touch of glam with an earring that complements your statement piece | STATEMENT: Can you get anymore 'statement' than this wide leg spotted pant? | Shop the outfit here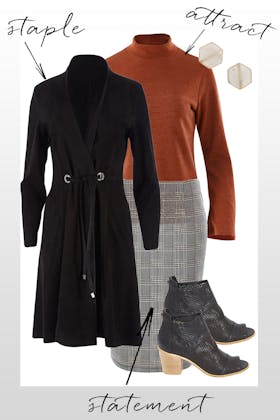 STAPLE: We all have 'that' winter coat we depend on for the entire season, the one that goes with everything | ATTRACT: A block on-trend colour 'lightens' up this office chic look  | STATEMENT: Check mate! A subtle print in a classic style, this pencil skirt offers just enough of the "look at me" vibe  | Shop the outfit here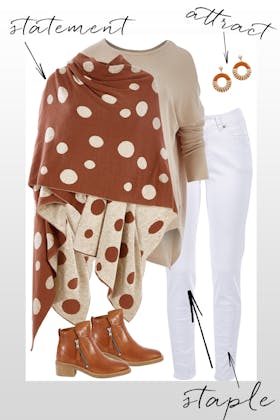 STAPLE: A neutral base is an easy starting point. Just because it's winter, it doesn't mean you should opt for darker colours. Add a touch of 'freshness' to your look with some light, neutral tones. | ATTRACT: Elevate any outfit with a pair of earrings that add a splash of colour | STATEMENT: 'Tis the season for spots, and for good reason! A wrap that doubles as a warm outer layer and stylish showstopper piece, sign us up! | Shop the outfit here
Love, the birdsnest girls x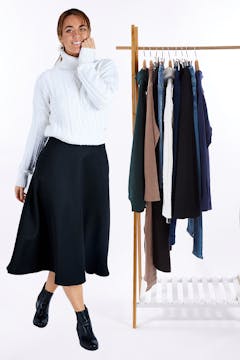 birdsnest outfits page
With over 1000 outfits to view, and new inspiration uploaded every day, you can browse and shop outfits that suit your style personality, body shape, or occasion. 
BE INSPIRED