The humble jean is an essential item in every woman's wardrobe. Worn with a tee and sneakers, jeans are the casual companion we can't help but rely on. Paired with a slinky blouse and heels, and they'll take you to date night looking chic and put together. They're effortlessly dressed up or down and go with almost anything - there's honestly nothing a great pair of jeans can't do!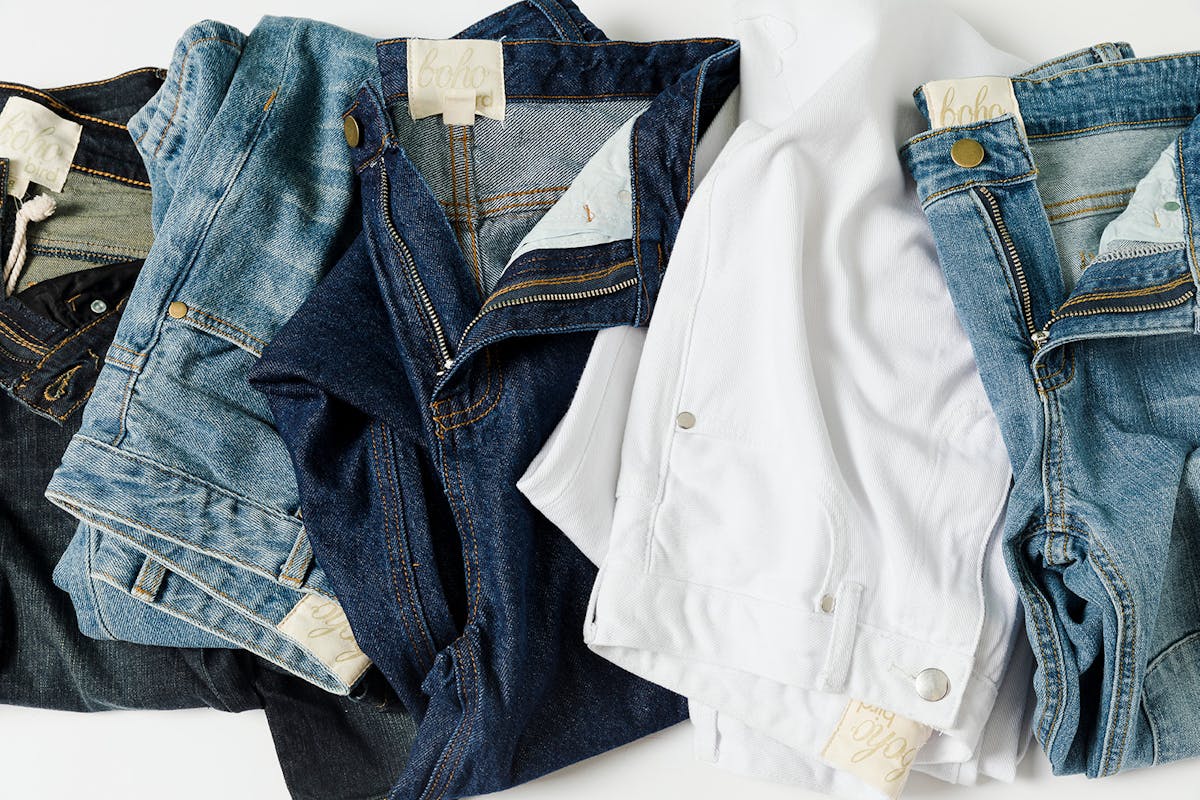 Owning that perfect pair of jeans is nothing to take for granted. With so many options and styles out there, finding that perfect pair can be an overwhelming task -  one we really don't want to endure season after season when we just don't get it right the first time.
NOW IS THE TIME TO FIND YOUR PERFECT FIT
So, what's the difference between styles? Which pair will suit me? We had our Styling bird, Steph, try on the most popular styles to find out!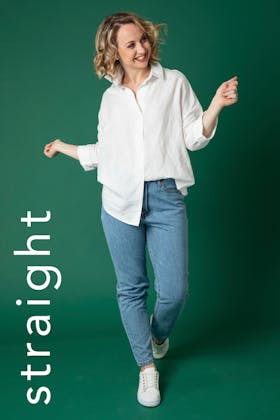 The Original Multi Tasker - The straightness means they've got that little bit more room around the ankle and calves, which we love - especially for those who are a little thicker in these areas. Add straight leg jeans as the foundation piece for almost any outfit, casual or smart. There's a reason they never go out of fashion - they are the perfect fit for any body type, helping to elongate your legs || Steph wears WAKEE JEANS Sophie Straight Jean | Shop all Straight Leg Jeans ||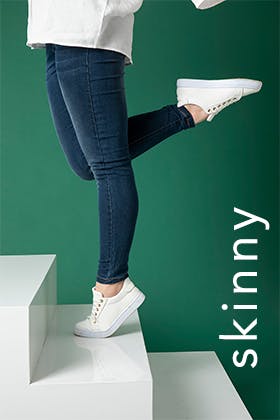 The New Kid On The Block - slimming, figure-hugging and a fantastic layering piece. The skinny jean is an easy styling companion. Not just great for women with longer legs who want to flaunt there pins a little (and why shouldn't we all!), they also work really well for those who are bigger up top but want to create a longer look || Steph wears BIRD KEEPERS The Mid Rise Skinny Jean | Shop all SKINNY JEANS |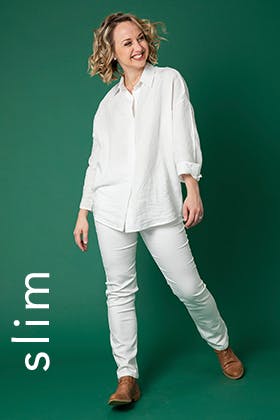 The Perfect In-Betweener - slimmer through the thigh and narrower down the leg, this shape is tight but not too tight. They will sculpt your legs and give you a slim lined look - without compromising on comfort || Steph wears BIRD KEEPERS The High Rise Slim Straight Jean also available in black ||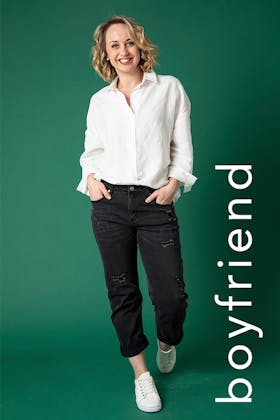 The Forgiving Companion - Boyfriend jeans are the relaxed cut, no snug fitting, casual style. They are perfect for women who like to hide their legs, but they look great on any body figure if paired with the right top || Steph wears BIRD KEEPERS The Distressed Boyfriend Jean - also available in blue ||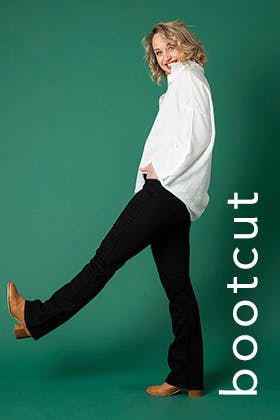 The All Time Favourite - fitted at the top with a slight, subtle flare at the bottom, this cut is flattering on so many different figures. It's a trusted style that is great at producing a lean silhouette. It also does what it says it will do: fit around your chunkiest boots - we love that!|| Steph wears NOT YOUR DAUGHTERS JEANS Barbara Bootcut | Shop all BOOTCUT Jeans ||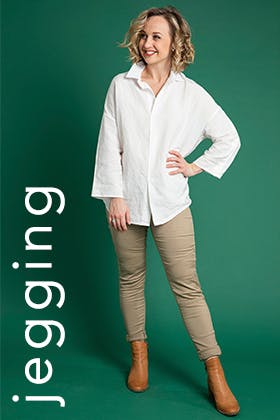 The Comfort Queen - made from a stretchy-knit denim fabric and topped with a wide waistband to smooth and flatter your shape, the jegging is unbelievably comfortable. Offering a great fit, no matter your body type, jeggings are becoming increasingly more popular | Steph wears BOHO BIRD Wild One Stitch Jeggings, also available in denim ||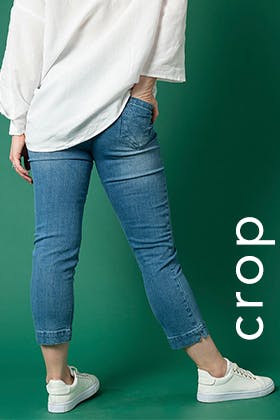 All Season Favourite - Flattering for birds with slimline calves and ankles, the crop jean is an all round favourite, especially in the warmer months. Pair it with flats, sneakers or mid-season ankle boots. They are also really great for the shorter birds among us! || Steph wears GORDON SMITH Cropped Miracle Jean - available in 6 colours ||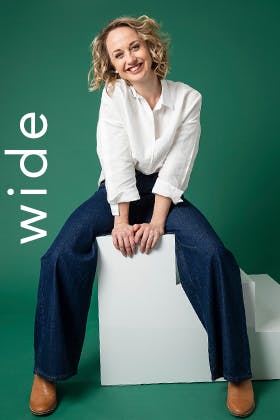 The Statement Piece - Designed to flatter your waist and visually lengthen your body, they widen out from the thighs down to the ankles. They work great for bigger hips and legs as they balance out the top half of the body, creating a 'column' look. A fitted top, shirt or crop jacket is the partner for these jeans. || Steph wears BOHO BIRD Happy Me Wide Leg Jeans - available in 3 colours | Shop more WIDE LEG jeans ||
The birdsnest Changeroom Upgrade - the jean friendly way to shop!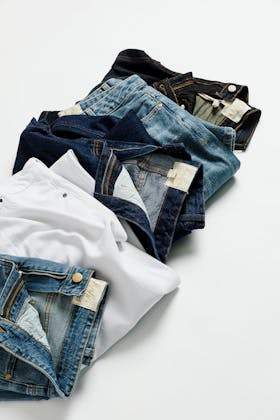 Whilst many of us are spending more of our days at home, it's the perfect time and excuse to take a little extra care in finding your favourite, trusty pair of jeans. The birdsnest Changeroom Upgrade is here to take the frustration out of jean shopping. When you upgrade to a birdsnest Changeroom for $9.95, you can order a mix of styles to try on in the comfort of your own home. We'll send along a pre-paid returns bag for you to send back any of the styles that don't make you feel a million bucks. Plus, when you choose to pay with ZipPay, you can select up to $1,000 worth of styles and there's no upfront costs and you only pay for the items you keep. Jean shopping has never been easier!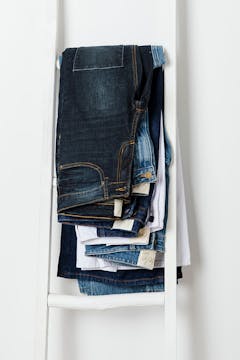 Find your fit
The forever reliable wardrobe staple it's time to get right - once and for all. Find your perfect fit with our extensive range of jeans
SHOP JEANS