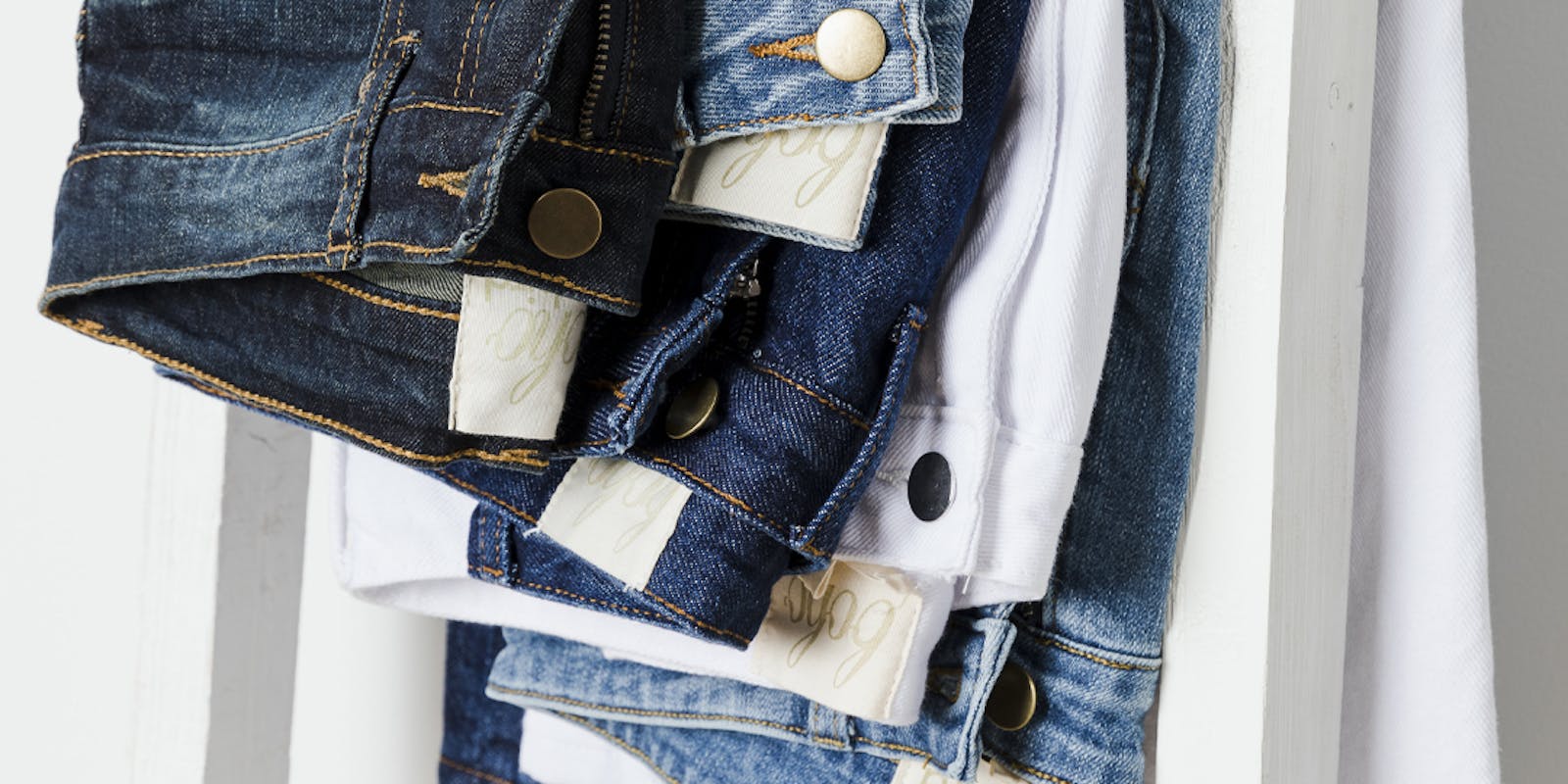 Denim is, without a doubt, the backbone of any wardrobe for every style, size, body type, and season. Securing a cut of denim jeans that flatters and suits you needn't be so overwhelming with advice from our denim guide. 
To help you step out confidently in denim, we've answered all your questions such as how to dress jeans up, what shoes to wear with denim jeans, and even how to wear denim with denim. Whether it's a denim jacket, jeans, or any denim item in between, make styling it a breeze.
While they may be one of the most versatile wardrobe pieces, sometimes it's a little hard to know what to wear with jeans. So, let's break down denim styling.
What to wear with black jeans
Since there's no shortage of ways to style them, knowing exactly what to wear with black jeans can be overwhelming. You can easily dress them up with a silky blouse and heeled boots or down with a striped tee and sneakers. A slim fit pair works for an all-important interview, and straight-legged or baggier black jeans are perfect weekenders.
How to wear boyfriend jeans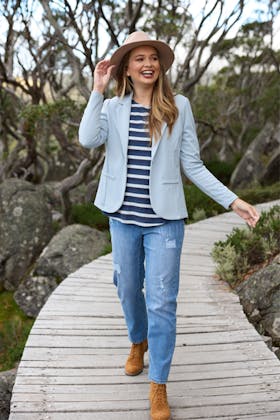 For the worshippers of comfort, boyfriend jeans are a fabulous choice. Experiment with different colours, including distressed denim, cuff them to a length that suits your shape and opt to wear something more feminine on top. At birdsnest we love to pair with a blazer for a smart casual look, perfect for work and other occasions where you want to dress up your denim look. When it comes to footwear, be playful with some heels or pumps which also lengthen the leg. Or stay comfy in your sneakers or flats.
Looking classy in jeans is completely possible. While you can wear darker denim and skinny cut black jeans for dressier occasions, lighter or wider denim can also be easily elevated. Consider chic footwear with a heel and marry your jeans with a more formal or smart casual top in a luxurious fabric.
Styling Denim Jackets & Denim Shirts
For these two fad-proof items, it's good to know exactly how to wear a denim jacket with jeans, how to sport a cropped denim jacket, and what to wear a denim shirt with. Here are our tips:
How to wear a black denim jacket. A simple black denim jacket can add a whole lot of variety to your outfits. A good approach to the denim-on-denim look without making too much of a statement is to wear a black denim jacket with blue or even white denim jeans. And, for an ultra-slimming look, an all-black ensemble is always a stunning choice.

How to wear a short denim jacket. Cropped denim jacket styling is quite simple. Just think of the silhouette. Wear this trendy twist of a classic with high-waisted, wide-leg pants, or pair it with a flowing maxi. Either way, it'll flatter any shape.

How to wear a denim shirt. At times it's a little hard to find a bottom to pair your favourite denim shirt with. To wear yours with denim jeans, make sure there are a few shades between them. Jeans, shorts, skirts, or pants in black or white offer a brilliant base, but of course being a classic, a denim shirt can be worn with prints and florals too. Wear it open, tuck it in, or tie it up and roll up the sleeves. Find a way to wear it that makes you feel like you.
How to Style Denim Skirts & Dresses
Thankfully, denim is so adored that it's not only limited to jeans, denim shorts, jackets, and shirts. Denim skirts and dresses make brilliant additions to any wardrobe, so here are some styling prompts to help you rock them:
How to style denim skirts. Whether it's a knee-length or a denim maxi skirt, find a cut that's flattering on you and appropriate for the occasion. Wear a denim skirt with what you'd wear with a pair of jeans.

How to wear a denim shirt dress. Cinch your all-denim ensemble with a brown belt for a classic look, or opt for statement jewellery. Other denim dresses such as pinafores, denim shift dresses, or denim maxis can be layered in lots of fun ways, especially in winter.

What shoes to wear with denim dresses. A shorter denim dress can be combined with lots of great options like flats, white sneakers, sandals, and even elegant pumps or heeled boots. Longer denim dresses look amazing with ankle boots and knee-high boots, as well as casual pumps, perhaps in a popping colour.
Explore our range of women's denim clothing online. To find the perfect fit and ease-of-mind purchasing, enjoy 365-day hassle-free returns with birdsnest.
Love, the birdsnest girls x