We have been having a lot of fun in the studio recently, working on our new video series 'Wardrobe Wingbirds STYLE FIX'. Each episode offers styling tips and tricks from our in-house stylists and showcases fabulous new season or best selling pieces from our range. This week we have focused on a classic blazer. We've taken it out of the office, and paired it back with some lovely everyday outfits. Watch our video above to see four casual outfits transform into something a little bit more chic and dressy, just by adding a blazer.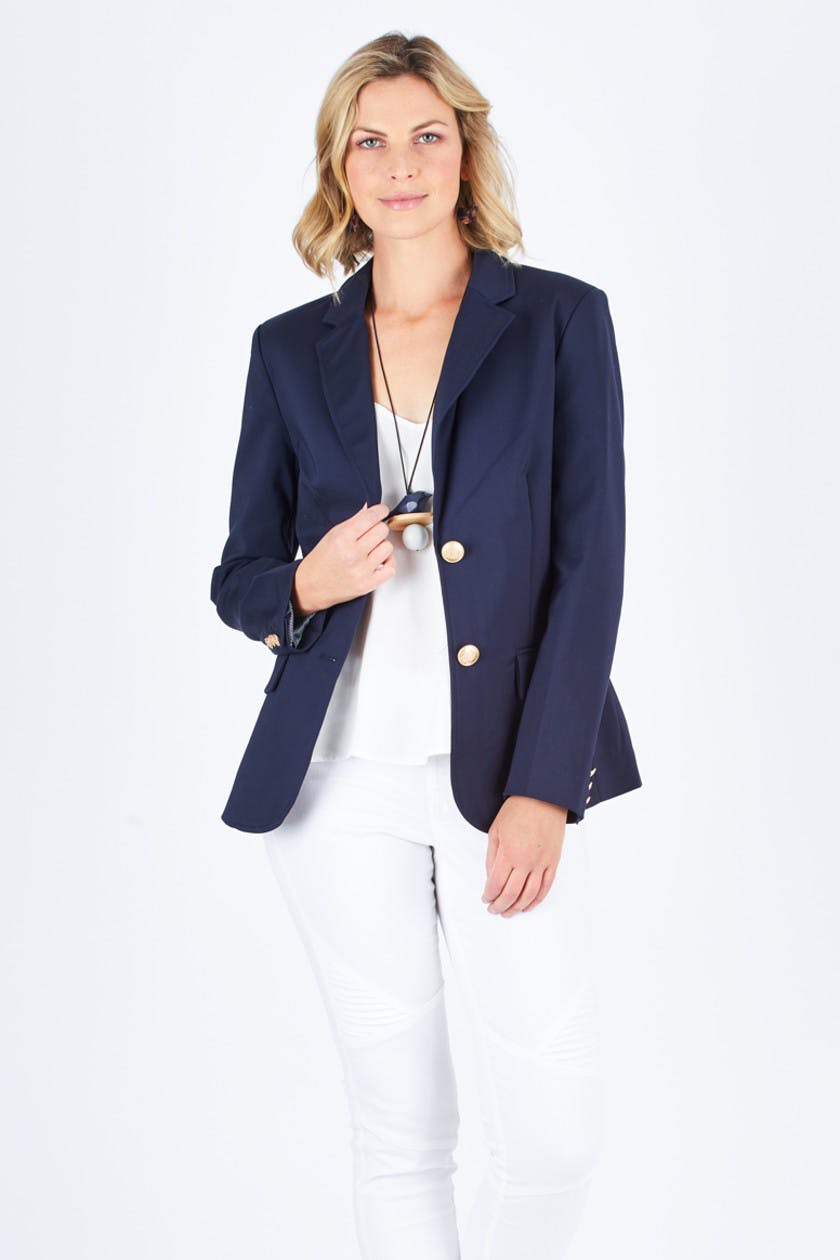 The Classic Blazer by Gordon Smith is a traditional blazer style with a fresh modern update in the form of gold look buttons and a chic stripe lining that can peep above a rolled cuff. The extra length and tailoring of the jacket make it a flattering silhouette that will give you instant confidence.
Other features include:
- Flat lapels
- Faux front pockets
- Smooth fabric with stretch
- Fully lined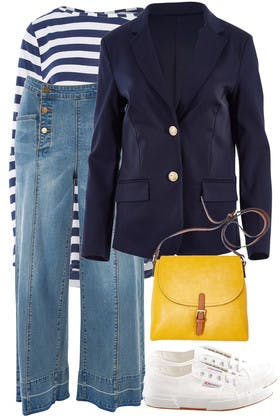 OUTFIT ONE: This nautical-inspired outfit transforms from casual to class as soon as the buttoned blazer is added to the the look. Even with a casual plimsole, the blazer works as it matches well with the colour palette and offers some structure to the outfit. The tee can be worn untucked, or as we recommend, you can try the half tuck which will show off the unique button detail in the jean. Heading out to coffee, to run errands, or to do the school pick up? Pop a blazer over your jeans and tee to up the style stakes. Shop the Nautical Crush outfit here.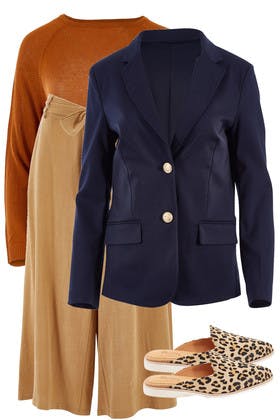 OUTFIT TWO: Ease into the tone-on-tone trend by mixing similar colour groups together like this burnt orange top and camel linen blend pants. The navy blazer brings it all together, adding structure to the shape of the outfit. Some leopard print slides will add a playful touch. This look can pass as smart-casual and may even be appropriate for your workplace. It will also take you out to lunch in style. Shop the Tonal Time outfit here.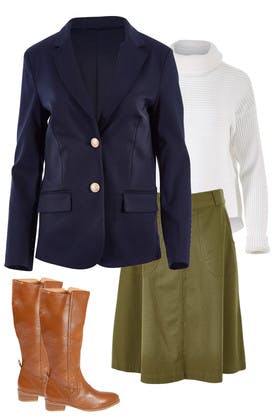 OUTFIT THREE: Nothing screams winter like long boots and a cosy turtle neck sweater. Add a cotton, khaki skirt and the hero blazer and voila - your outfit is complete. There is something about this look that transports us to the English countryside. It's very classic and sophisticated and is a great choice for many occasions. Shop the Years To Come outfit here.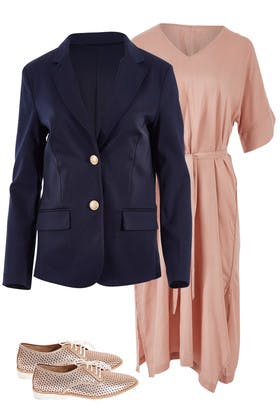 OUTFIT FOUR: If there is a colour combination that we are loving right now it's pink and navy, and this look makes our heart skip a beat. The blazer instantly adds an element of class to this everyday dress. We recommend rolling the sleeves of the blazer up to showcase the chic stripe that appears on the inner lining of the jacket. This will create an understated, yet elegant outfit that you can feel great in. Shop the Pink Dahlia outfit here.
Love, the birdsnest girls x