We're so excited to have our Cooma doors open once again! We can't wait to see your faces in person and help you find some fabulous treats. We've introduced some covid-19 precautions to help keep you, and us safe, which includes a brand new booking system to help us to adhere to social distancing regulations. So, here's a look at what to expect when entering the birdsnest store. We hope to see you soon!
Are you just as excited as we are, and want to come and see our gorgeous shop birds for some wardrobe TLC? Here's how it will work!
1. Book online using our super easy booking system!
Choose a time that works for you and lock in your birdsnest visit! By booking online, we can assure not only your safety, but the safety of our team. If you'd like to know more about our new system - you can visit our shop page here.
2. Check-in and get your temperature checked on arrival.
On arrival, you will check in at the desk near the front door. We will also do a quick temperature check, using a forehead thermometer. There is hand sanitizer and face masks available for you at the desk for extra precautions!
3. Browse through all our amazing styles, including the 1000's of styles in our warehouse!
When you enter our shop floor, not only do you have access to a curated selection of styles that are our on the floor, you can also browse, using our computers, 1000's of other styles and sizes that are online and awaiting in our warehouse. When you find something you like, with the help of our shop birds and stylists, it will meet you in your change room! If you've already found something you love online before visiting our store, you can use our 'in-store pickup' option and it will be waiting for you on arrival.
4. Enjoy the extra attention from our style-savvy shop birds.
Adhering to social distancing precautions can be a little awkward - but it does have an upside! With less customers visiting our store, you pretty much will have your own personal stylist and shop assistant - so make the most of it!!
5. Try your styles and find the perfect match.
During your visit to our store - should you wish to try anything on, you will be assigned your own personal change room to do so! This is to ensure your safety (and to make you really feel like the VIP you are).
6. Use a safe contactless payment.
Thanks to pay-wave, you can make a super safe and super easy contactless payment before heading off with your new found wardrobe loves.
7. Head home with your new wardrobe wonders and visit again soon!
This is the best part! You leave the store with some new clothing in your hands and a smile on your face - and we can't wait to see you again!
Monday-Friday 10am - 5pm
Saturday 10am - 2pm
Sunday Closed
Public Holidays: We will also be open from 10am - 5pm on Monday 1st of June, and 10am - 1pm on Monday 8th of June.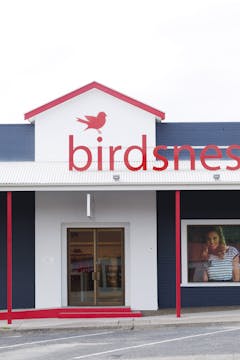 Come and see us!
There's no limit to the power of a little retail therapy! We are so excited to bring you a little bit of wardrobe magic - safely!
BOOK NOW!
Love, the birdsnest girls x