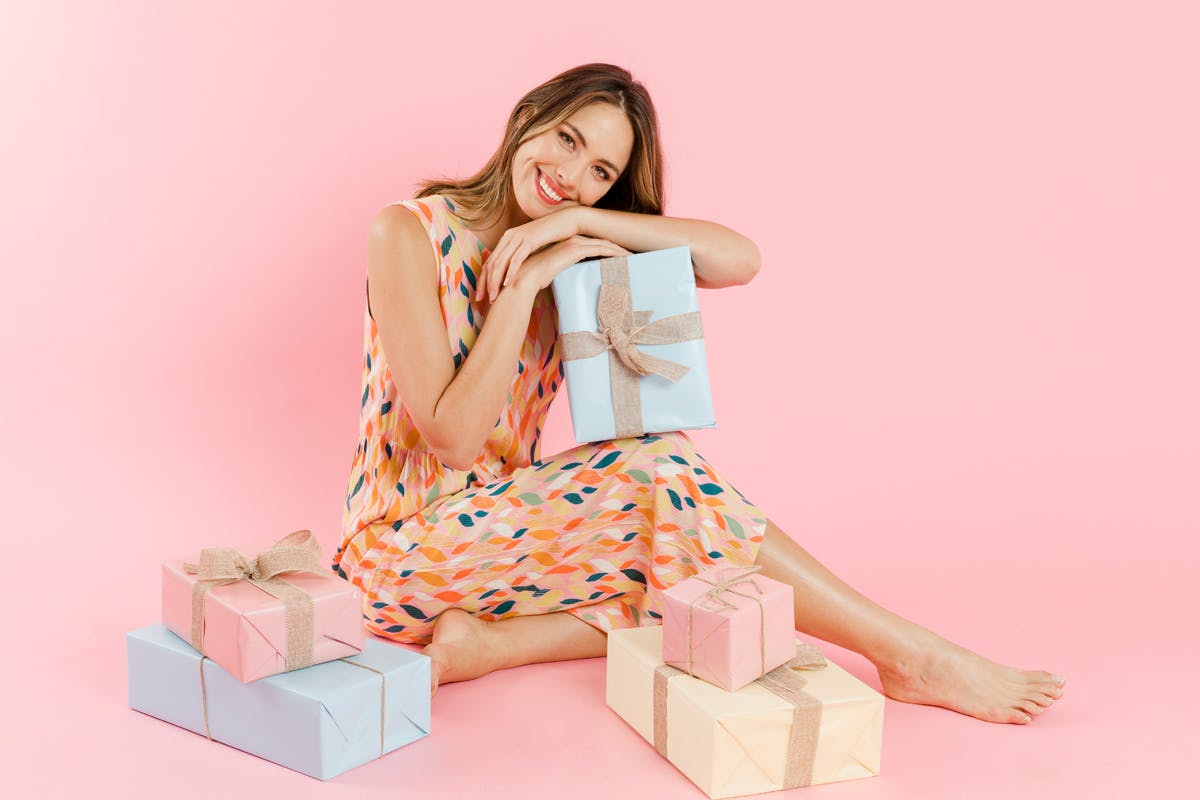 Christmas Day means something different to everyone, with an array of traditions in every household - but if there's one thing we know for sure, it's that Santa is not the only one who gets a cool outfit on Christmas! When it comes to the Christmas Day dress code we know that there isn't a one-outfit answer, but there is one thing that we all agree on - it's a fabulous excuse to dress-up!
Whether your day is full of formalities, involves backyard cricket or prawns on the barbie, we've compiled a curation of outfits to bring in the celebrations.
We simply can't sit here and talk about what to wear on Christmas without addressing the elephant in your wardrobe - the Christmas Day dress! We know we're not talking about everyone, but a lot of our birdsnest girls are crazy about a good festive frock for Christmas Day. Here's Christmas Day dresses that will surely brighten up your celebrations, and many days to come!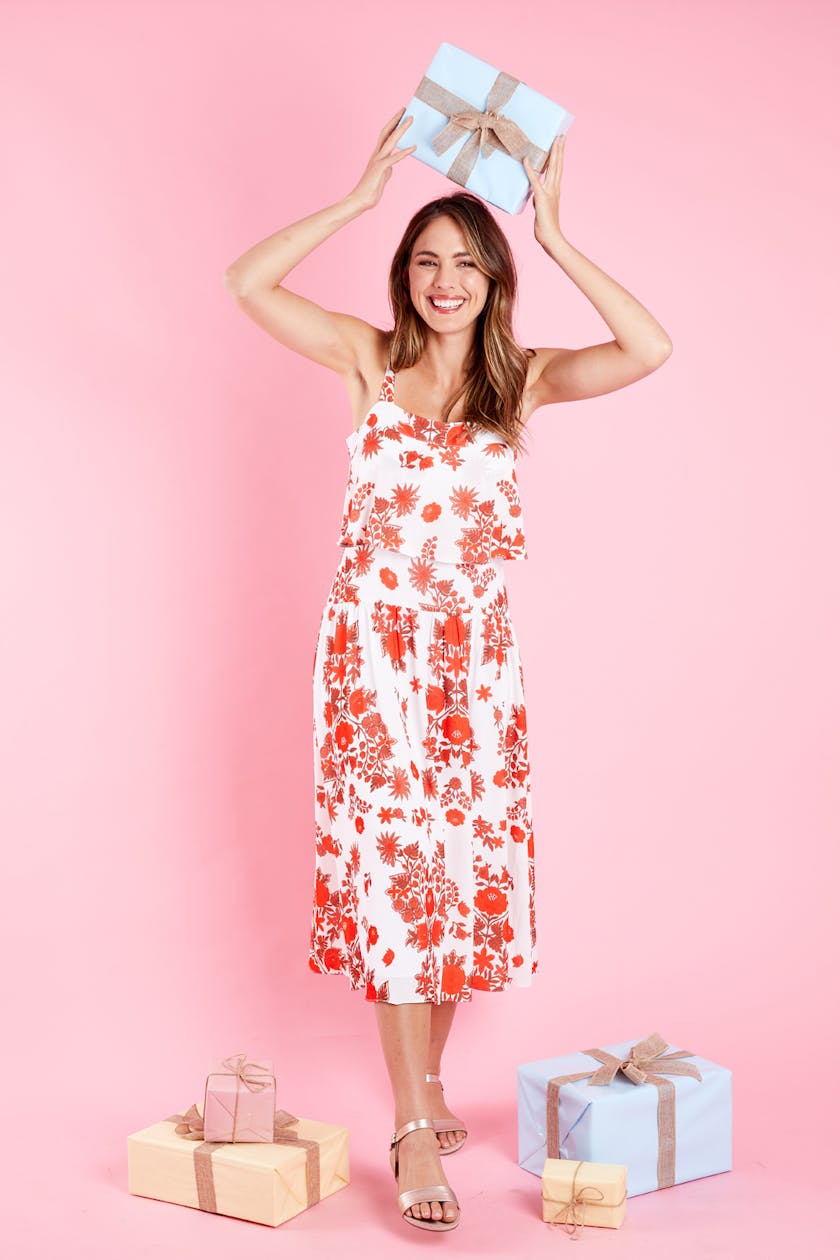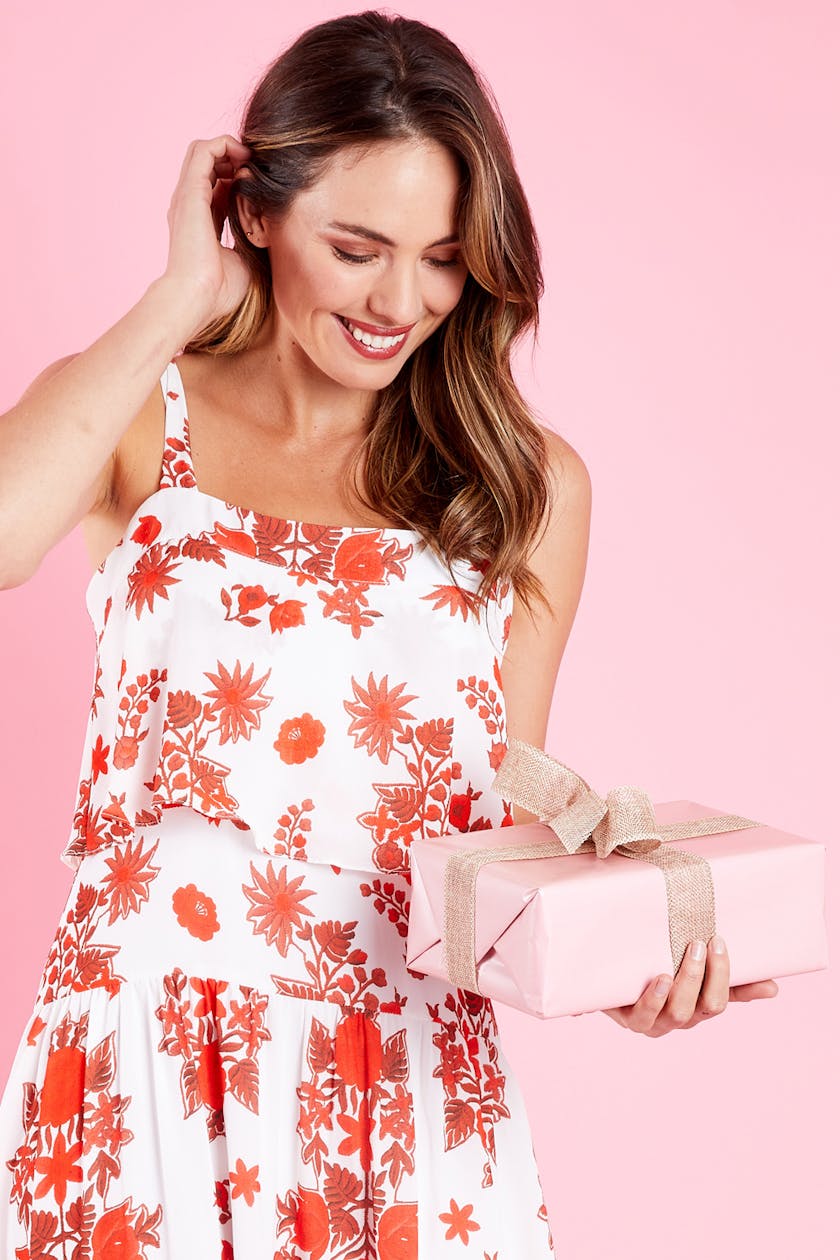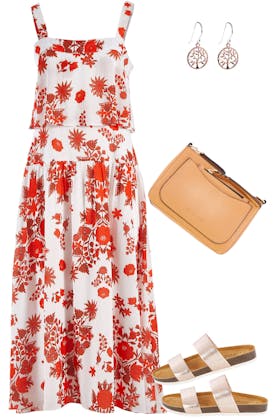 - COMPLETE THE LOOK -
When it comes to the perfect Christmas Day dress, you can't go past the freshness of a bright, enticing print on a white base! The Fun In The Sun Overlay Dress is super feminine and festive, and will surely have you feeling your absolute best on Christmas Day and beyond! Shop this outfit here.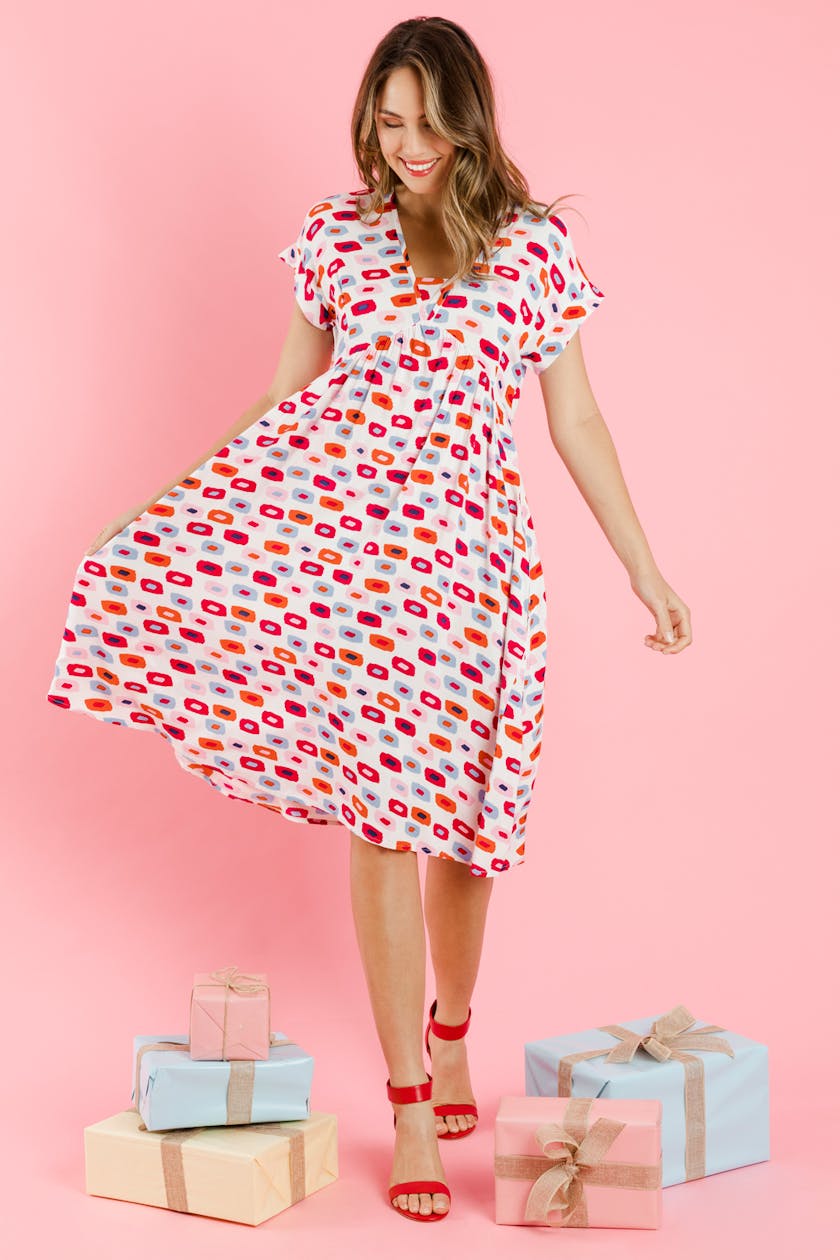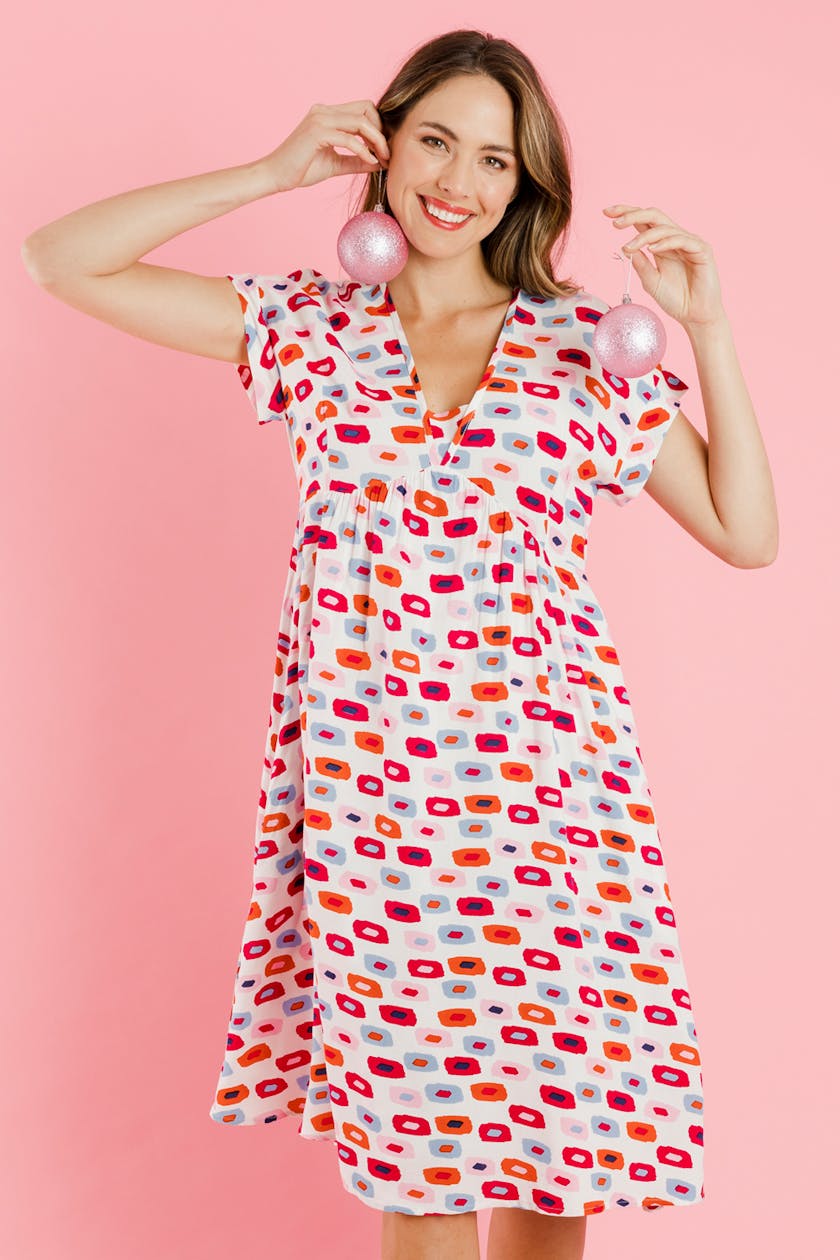 - COMPLETE THE LOOK -
A fun and fresh print is just what you need from a festive frock! Play up the Christmas vibes of this gorgeous dress by adding on some red shoes and funky earrings.
First things first, lets consider the type of Christmas party you're attending. Is it formal? Casual? Are you attending any public events such as Mass or Carols? Are you visiting Aunty Prue who needs a hand in the kitchen? Let's hope the ugly sweater isn't compulsory! (Just kidding, we love an ugly sweater!) Or maybe this is a chance for everyone to stay in, stay close and relax in slacks!
Christmas day is often a chance to relax, take stock of things and get a little comfortable. Provided your plans on Christmas day aren't too formal, this is a great chance to feel a little more casual in what you're wearing. Provided it isn't too warm, perhaps a nice pair of pull on pants paired with a tee would be perfect for spending Christmas Day at home. Whatever your casual Christmas looks like be - sure to slip on your thongs and pour a daiquiri at 10am. No one's judging.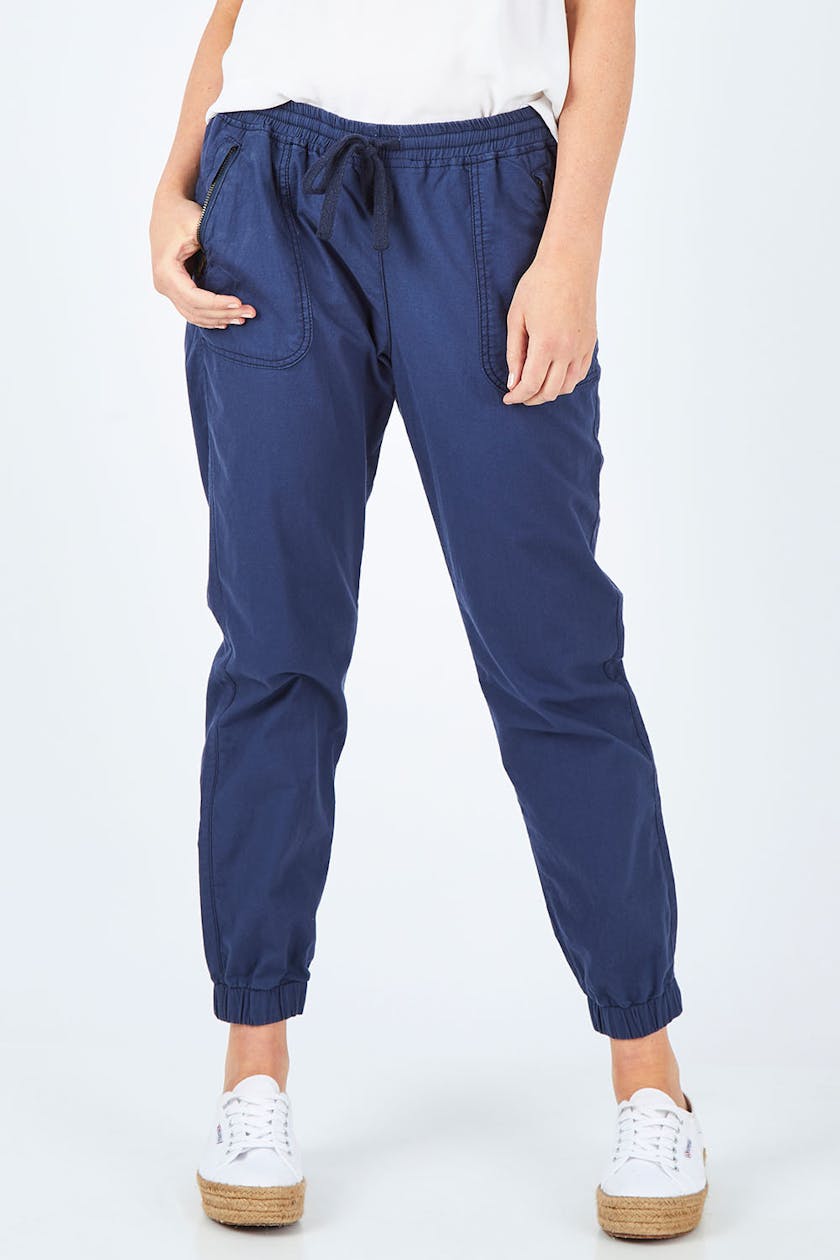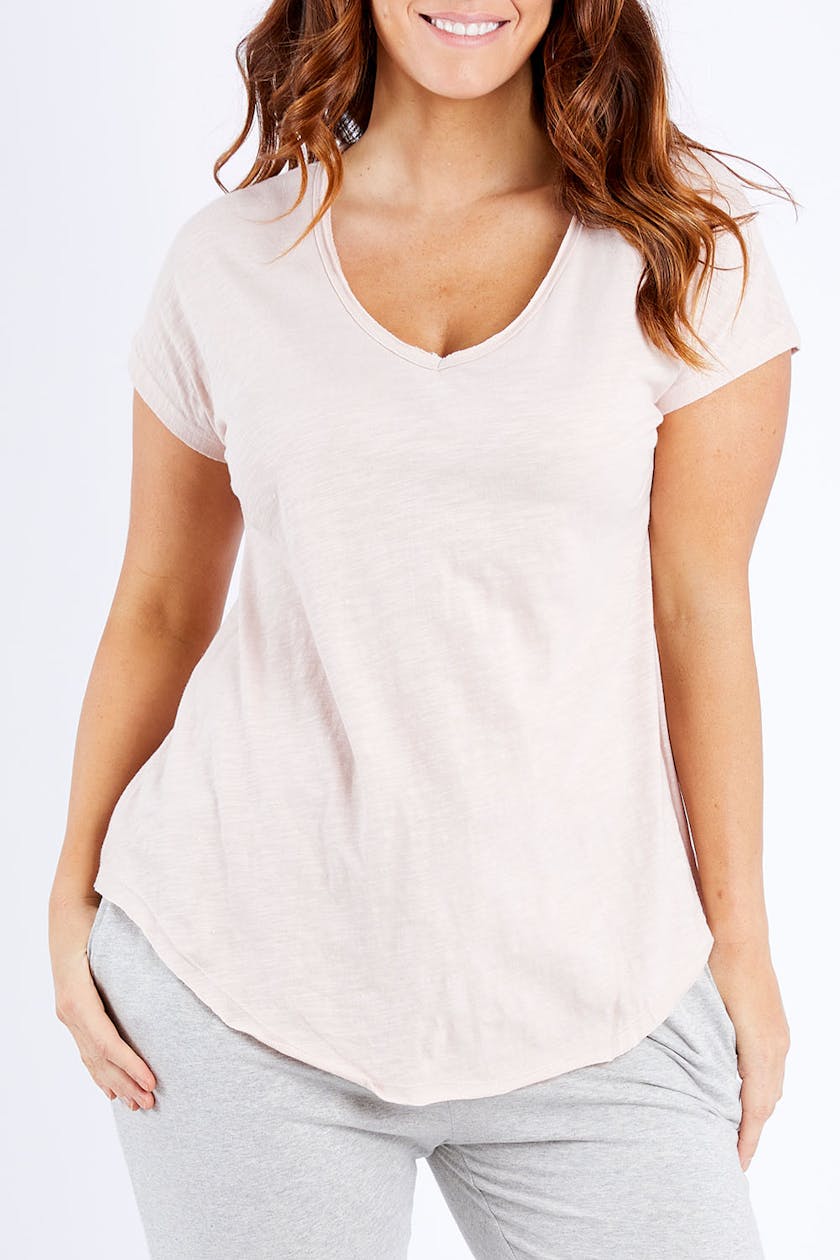 - COMPLETE THE LOOK -
When comfort is an absolute must, look no further than this easy and practical outfit! Made from organic cotton, this T-Shirt from our friends at Clé will keep you fresh all day long, while the Weekender Pant from bird keepers will allow for any extra room needed after Christmas lunch! Shop this outfit here.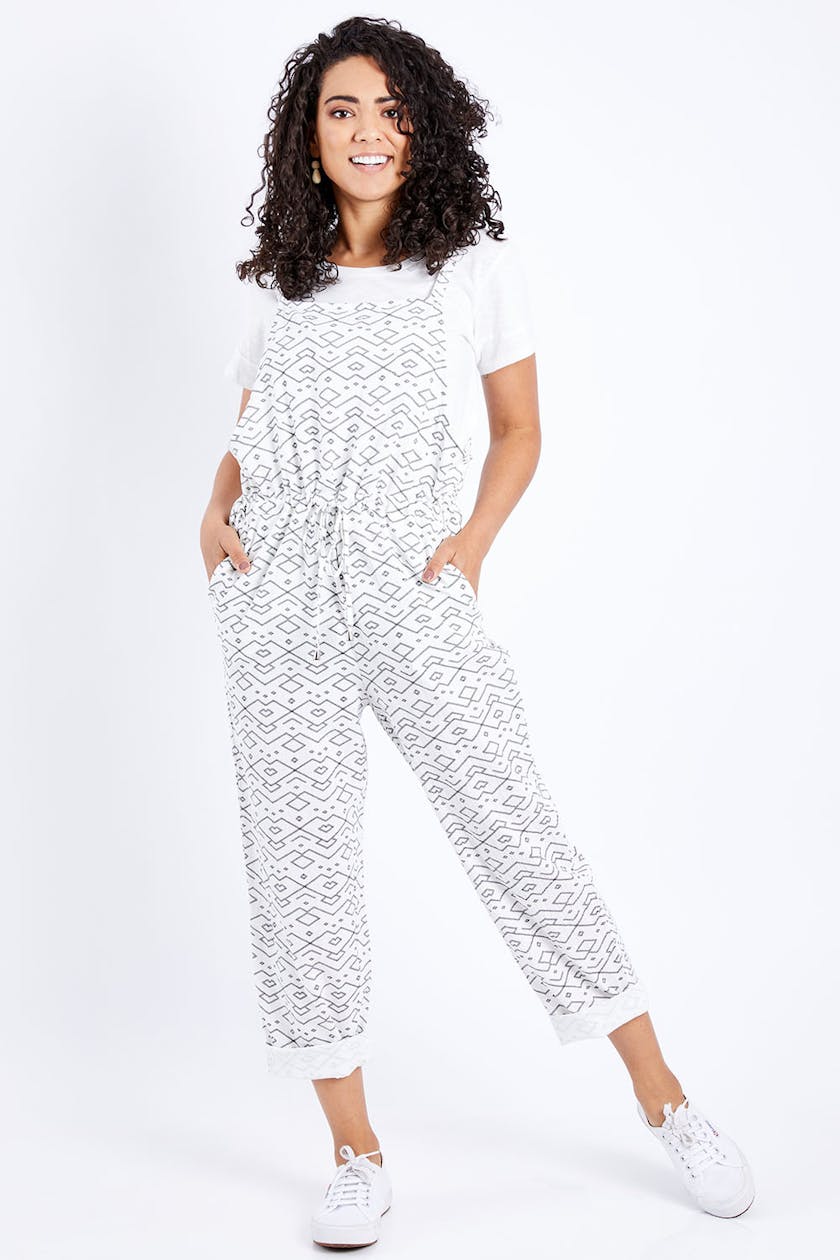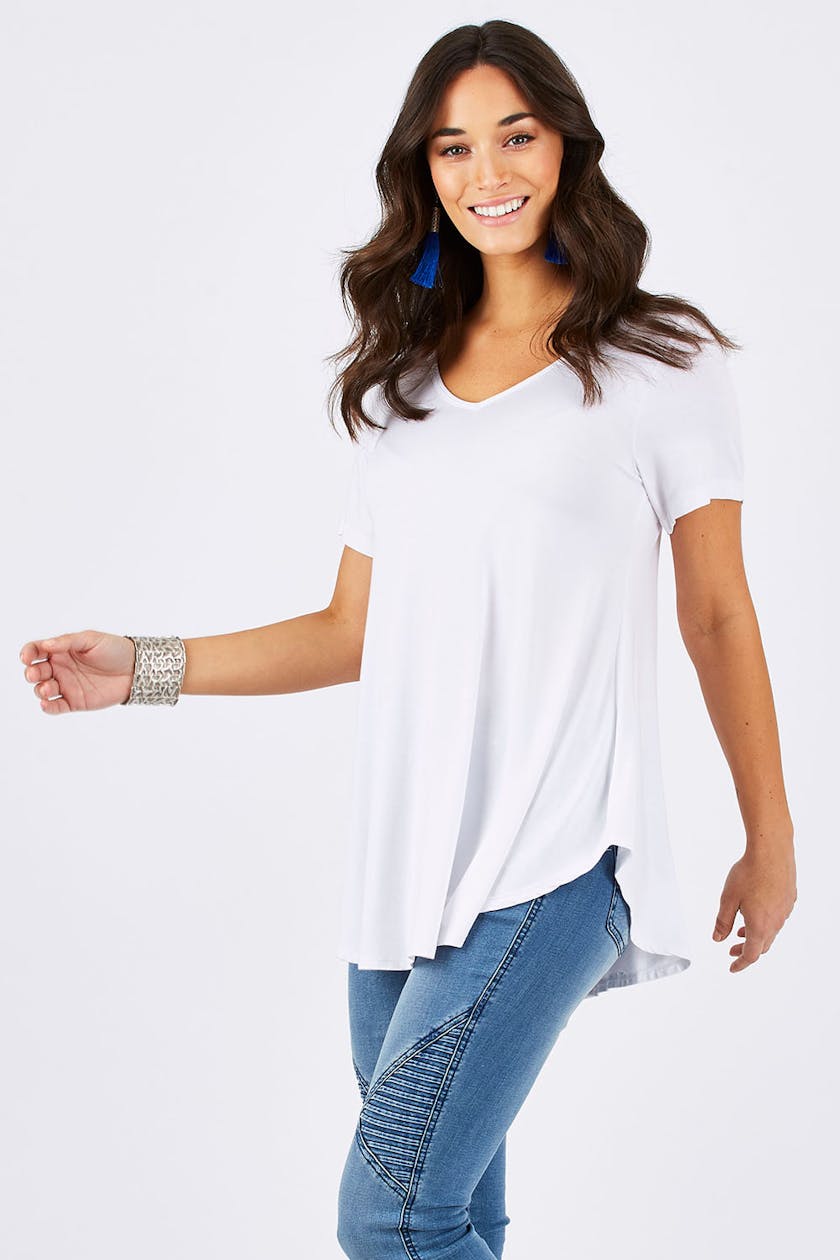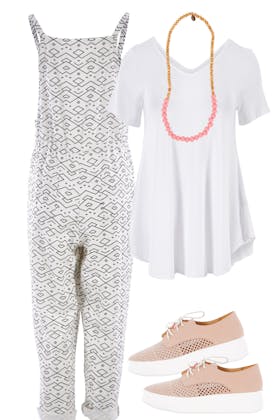 -COMPLETE THE LOOK-
We absolutely love jumpsuits, and this perfect piece is no exception. The gorgeous print on this jumpsuit makes it a fabulous choice for a comfortable Christmas Day outfit, and the cotton blend material will ensure you feel fresh all day long. Pop it on with the bamboo tee from boho bird, and you really can't go wrong! Shop this outfit here.
What to wear to Christmas lunch
Christmas lunch is often a special time in Australia. Often rolling into an afternoon nap and a light dinner, why not dress a little more comfortable while celebrating your style and femininity. Which is a polite way of us saying, wear something loose around the waste - that ham. Mmm ham.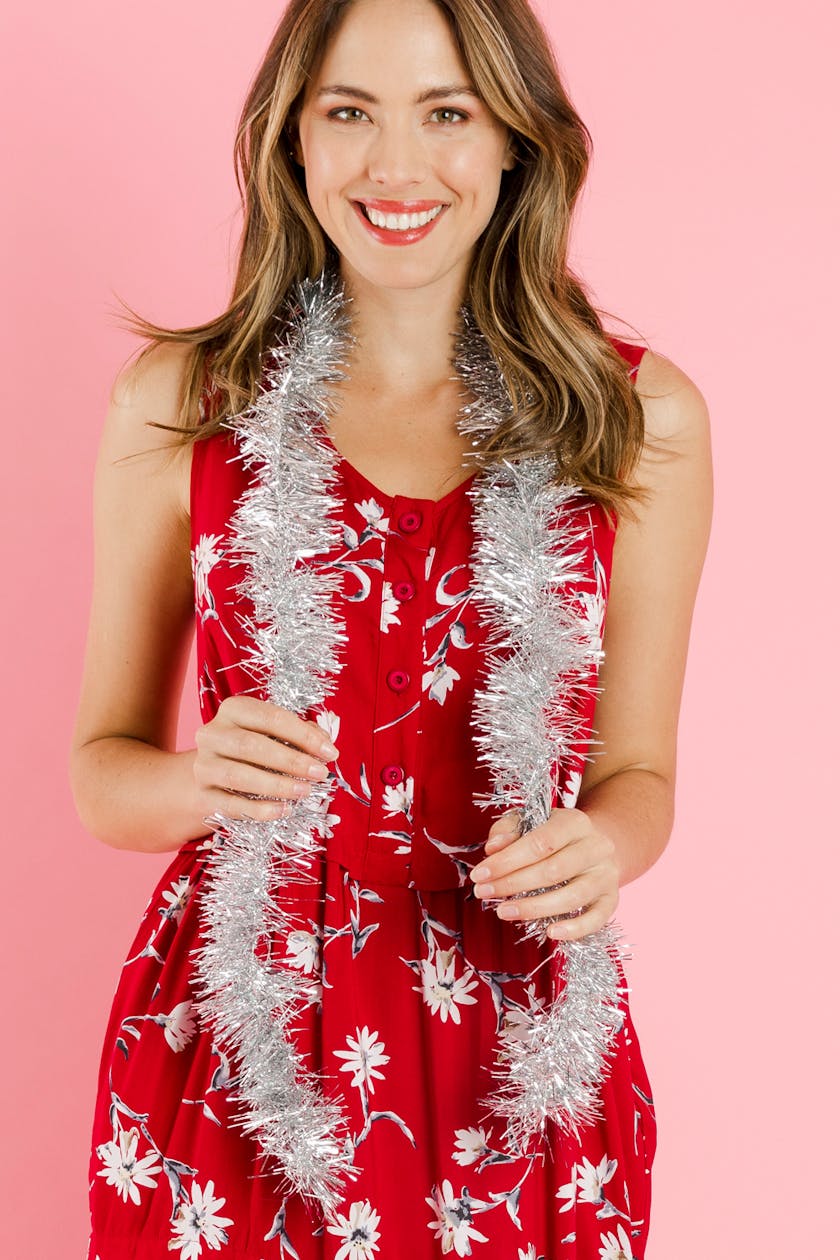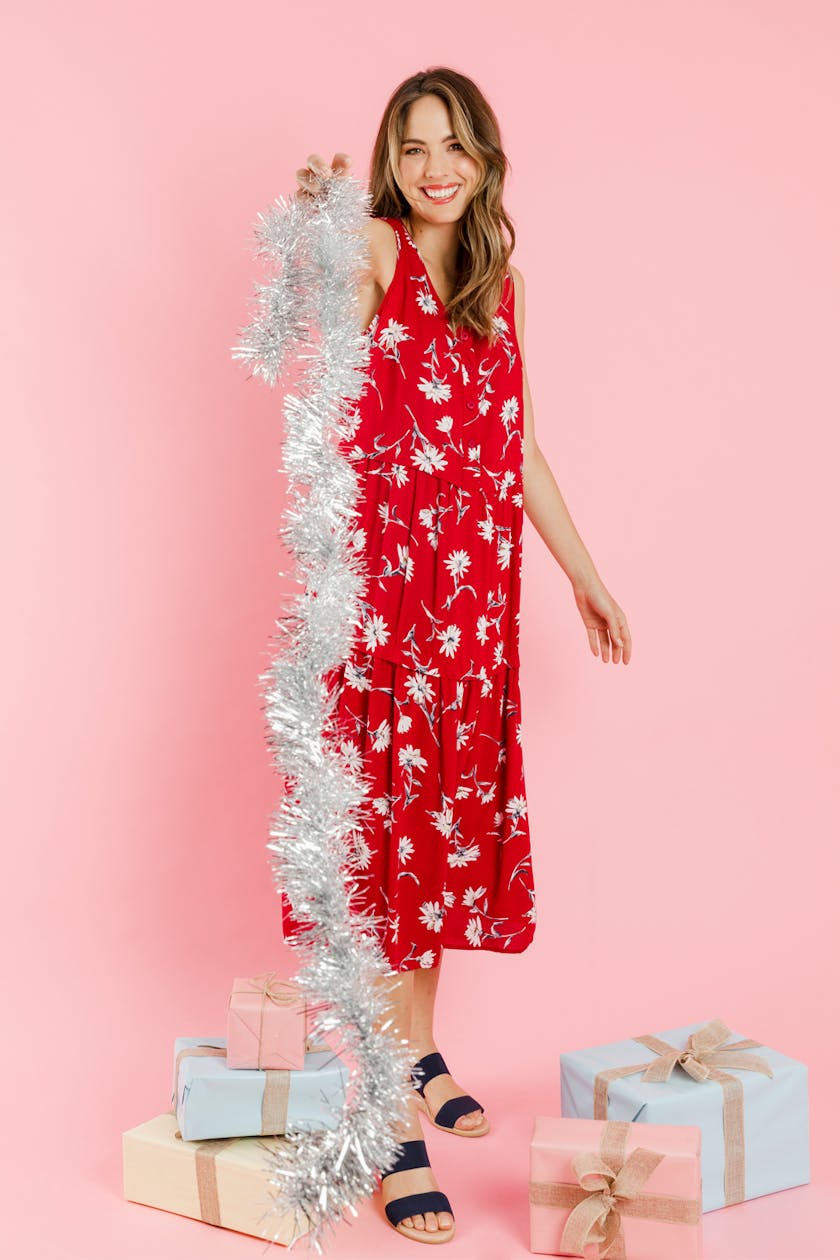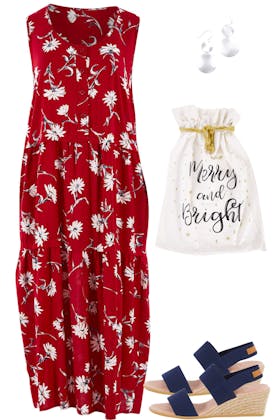 - COMPLETE THE LOOK-
There's no denying a classic red and white dress is perfect for Christmas! The Print Layered Maxi is perfect for your Christmas lunch events as it's easy to wear shape will keep you comfortable, and the relaxed waist will skim over your waist so there's plenty of room for all your food! Shop this outfit here.
What to wear to Work Christmas Party
It's almost always the best day of the year on your work calendar, and while not all work Christmas parties are the same - you will most definitely spend the lead up to the event thinking… 'but what will I wear?'.
A great way to figure out what you want to wear for a work Christmas party, is to take your usual work dress code and jazz it up a bit - that way your outfit can be equal parts appropriate and amazing! If you work in a more corporate setting and your work event calls for it, try a formal approach to your festive fit. If your workplace is more on the relaxed style, try adding some summery pops of colour to your look to really embrace the silly season style.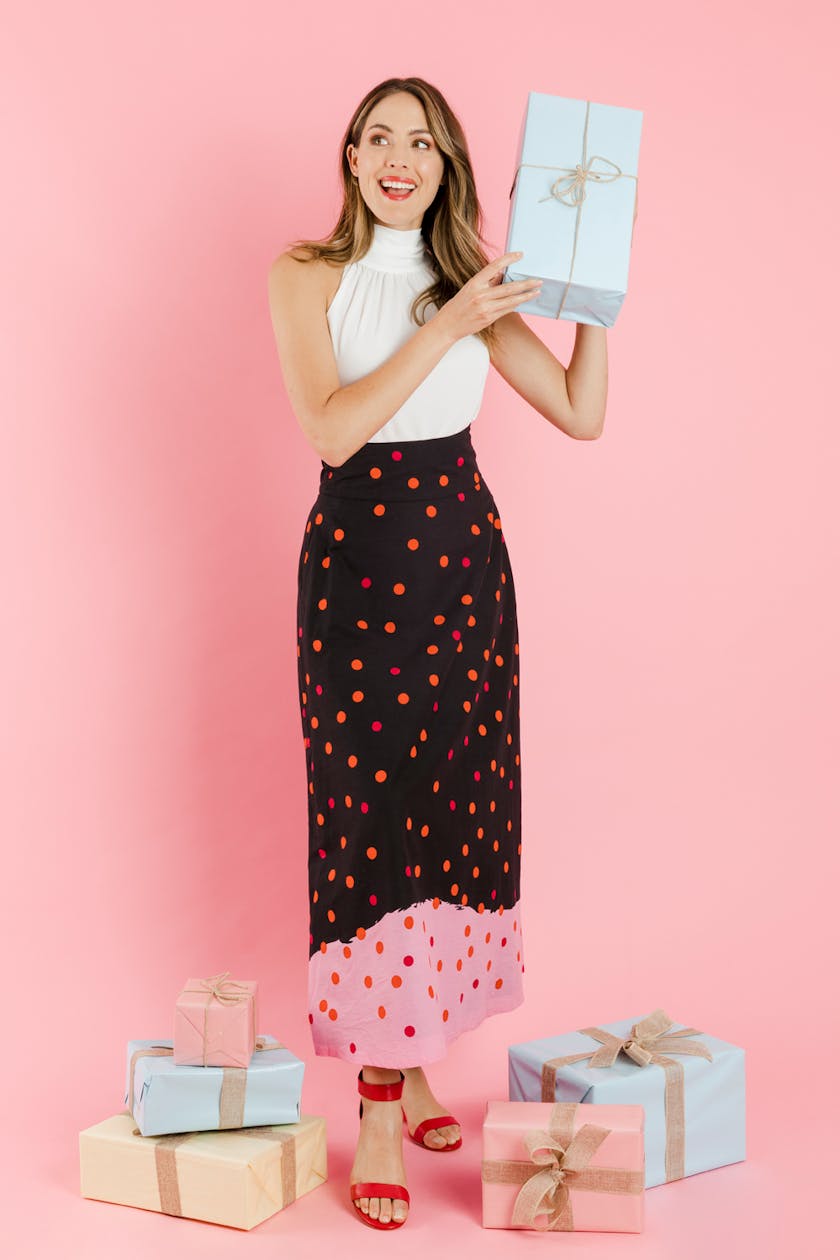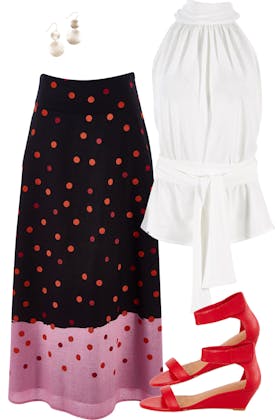 - COMPLETE THE LOOK -
The High Neck Tie Top from Sacha Drake is already a serious winner for your work wardrobe, and by adding the Rosie Maxi Skirt from that bird label, it instantly transforms into a perfect outfit for a work Christmas Party! If you're looking for something more casual, try swapping out the top with a tee shirt and the shoes with some sneakers for a fun yet relaxed look. Shop this outfit here.
Curvy Outfits for Christmas Day
Tis' the season to embrace your curves! No matter your style, shape or personality, finding a fabulous outfit for Christmas Day just gives you an extra thing to look forward to - and among our gorgeous collection of curve loving summer styles, we're sure you won't be hard-pressed to find the perfect match!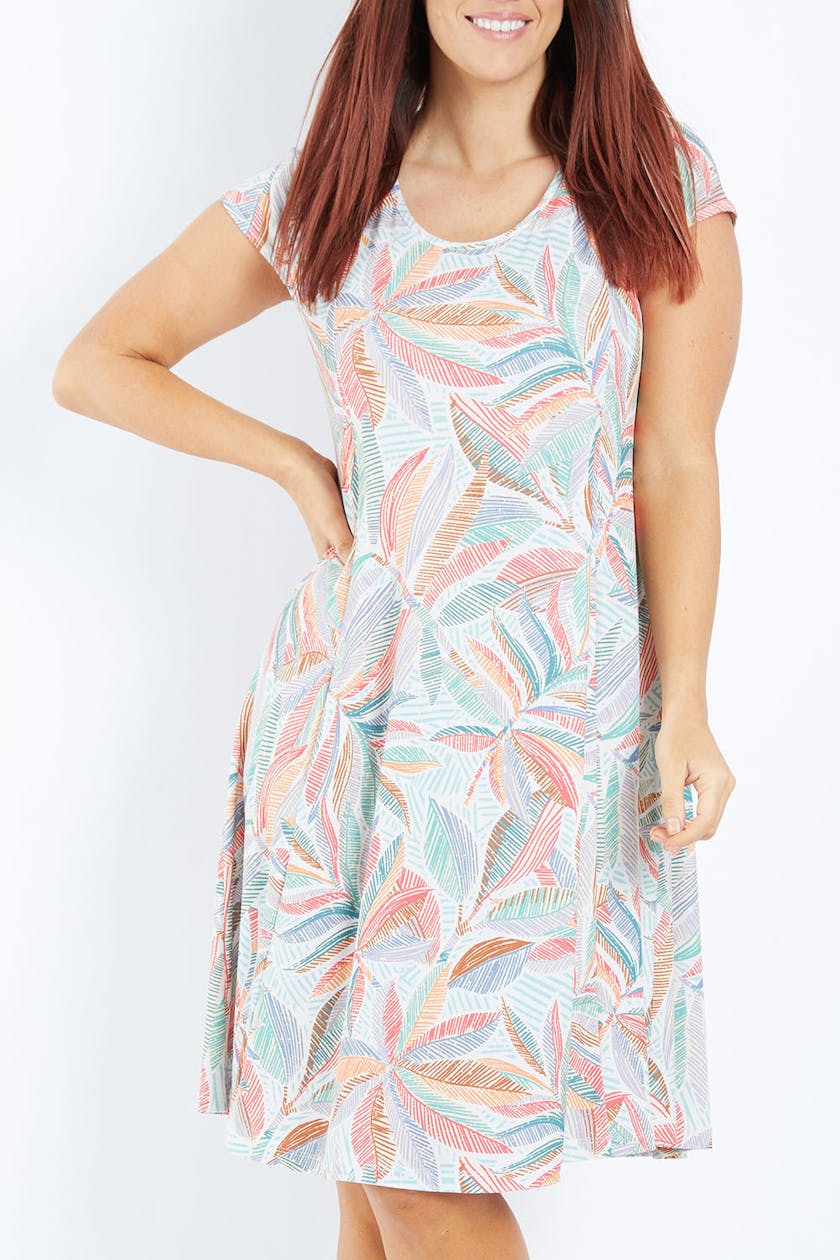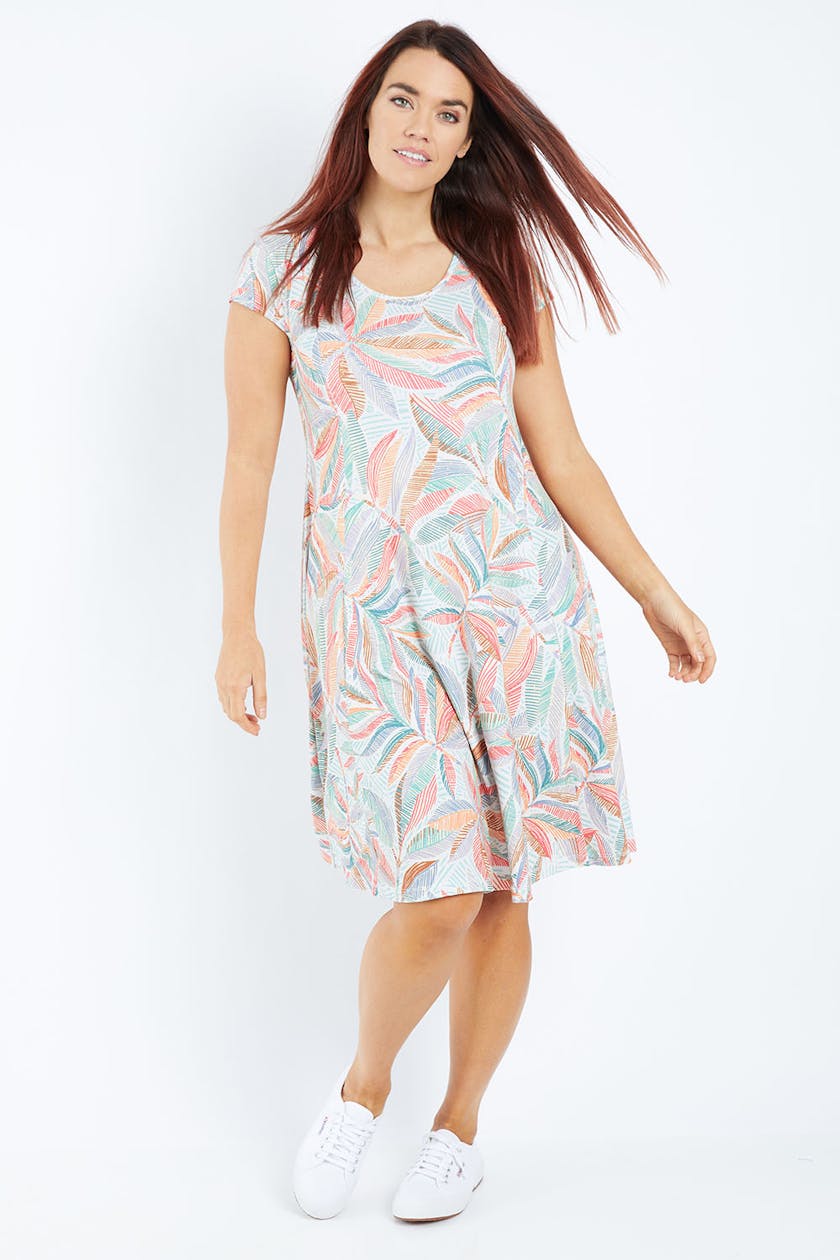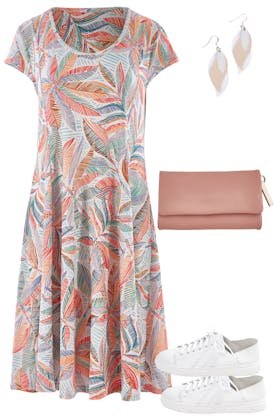 - COMPLETE THE LOOK -
Looking and feeling your best on Christmas can be as easy as popping on this gorgeous dress from our exclusive label belle bird! Available in sizes 8-24, 100% Australian made, and delightfully 'Christmassy', this dress will flatter your curves and draw plenty of compliments this Christmas. Shop this outfit here.
What to wear on Christmas Day when you're pregnant
Pregnancy is such a special time - but that doesn't mean dressing for your new body is easy! Choosing something free and comfortable like a wrap dress is a great option for those needing to compliment a baby bump without compromising on style! We tend to get a little hot when growing a wee human inside us, so opt for natural fibres to help keep you cool on our warm summer Christmas days.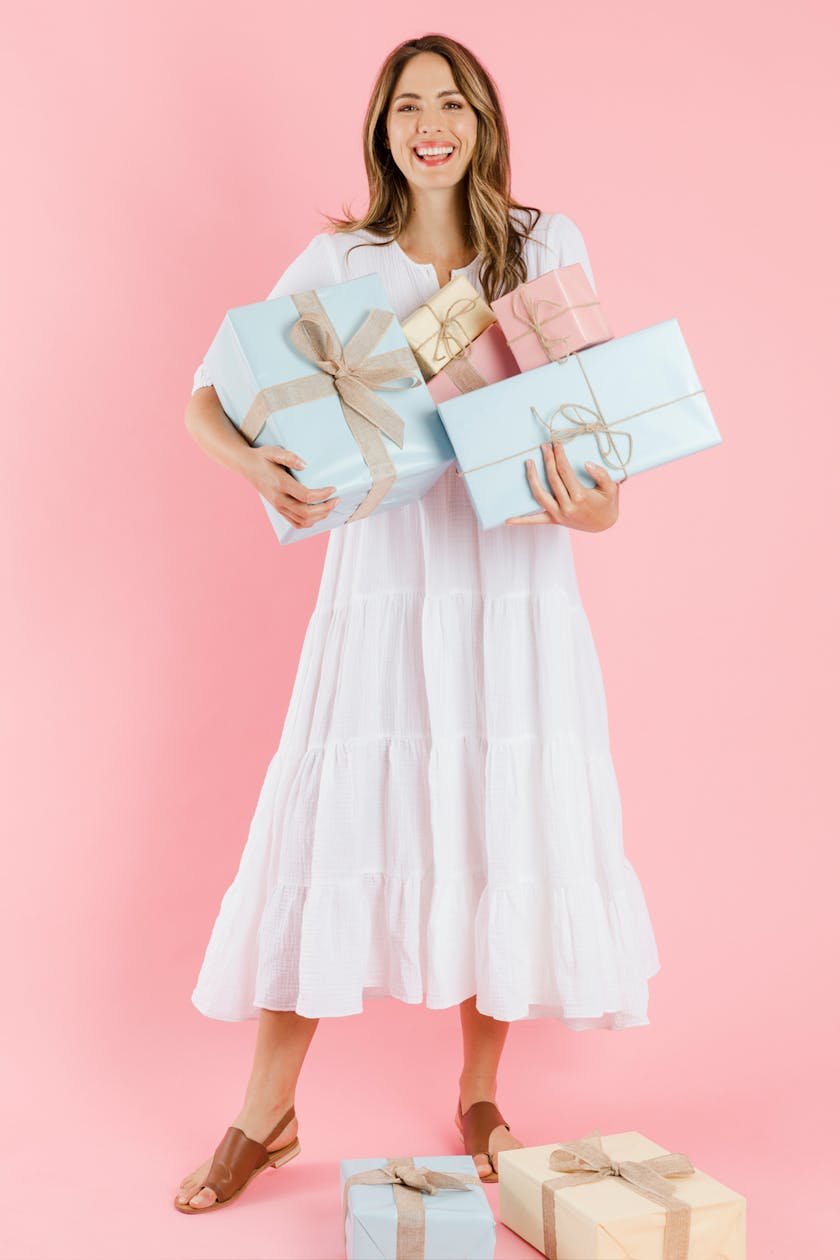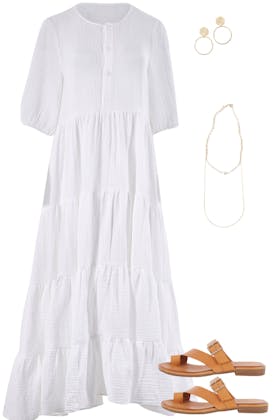 -COMPLETE THE LOOK-
This gorgeous and free flowing dress from our exclusive label boho bird is a great choice for a Christmas Day outfit when pregnant! With a free waist, there's plenty of room for the bump and the dreamy cotton fabric is sure to keep you cool. Better yet, the button detail in the bodice, will allow you to wear this while feeding once the baby arrives! Shop this outfit here.
Although the Christmas Day dress is the more renowned option for the big day - a Christmas Day jumpsuit is also an amazing option! Free, fun and super festive - a jumpsuit is your dance-floor approved option for all your silly season soiree's!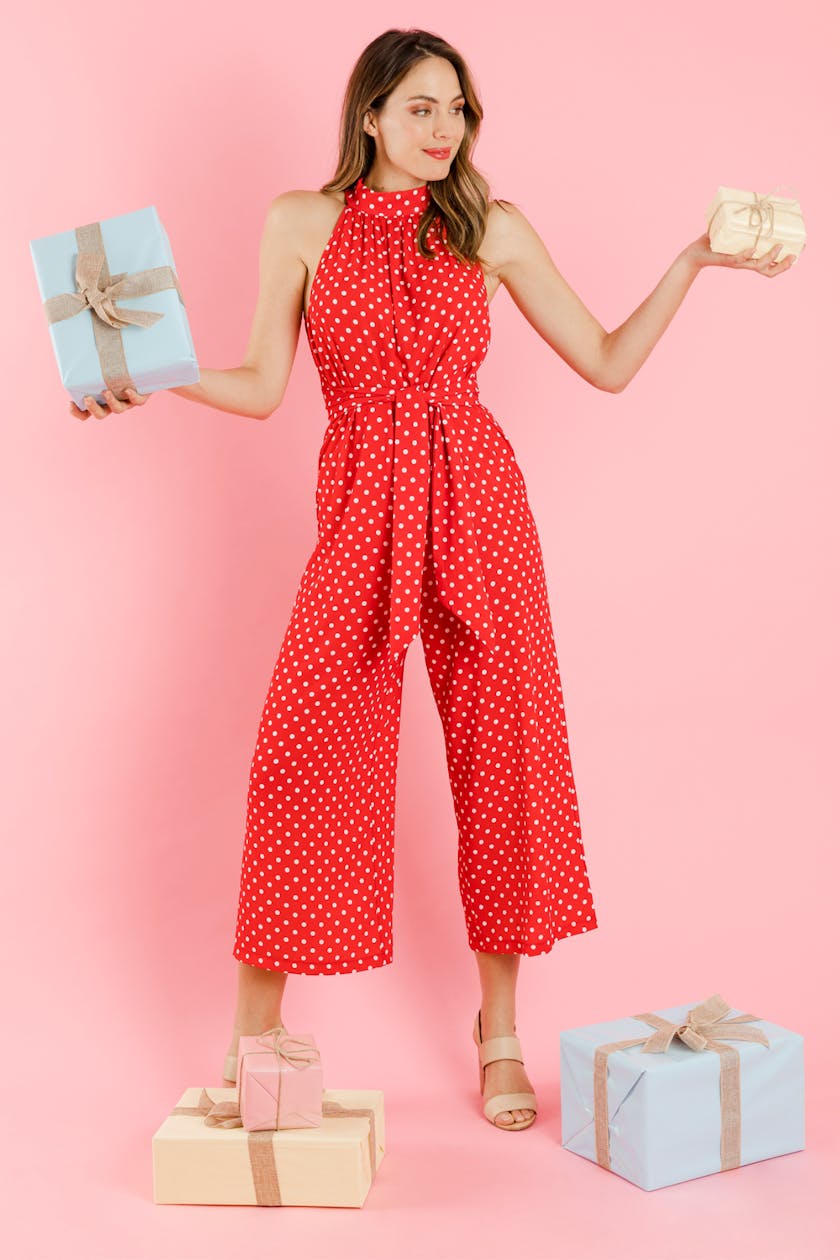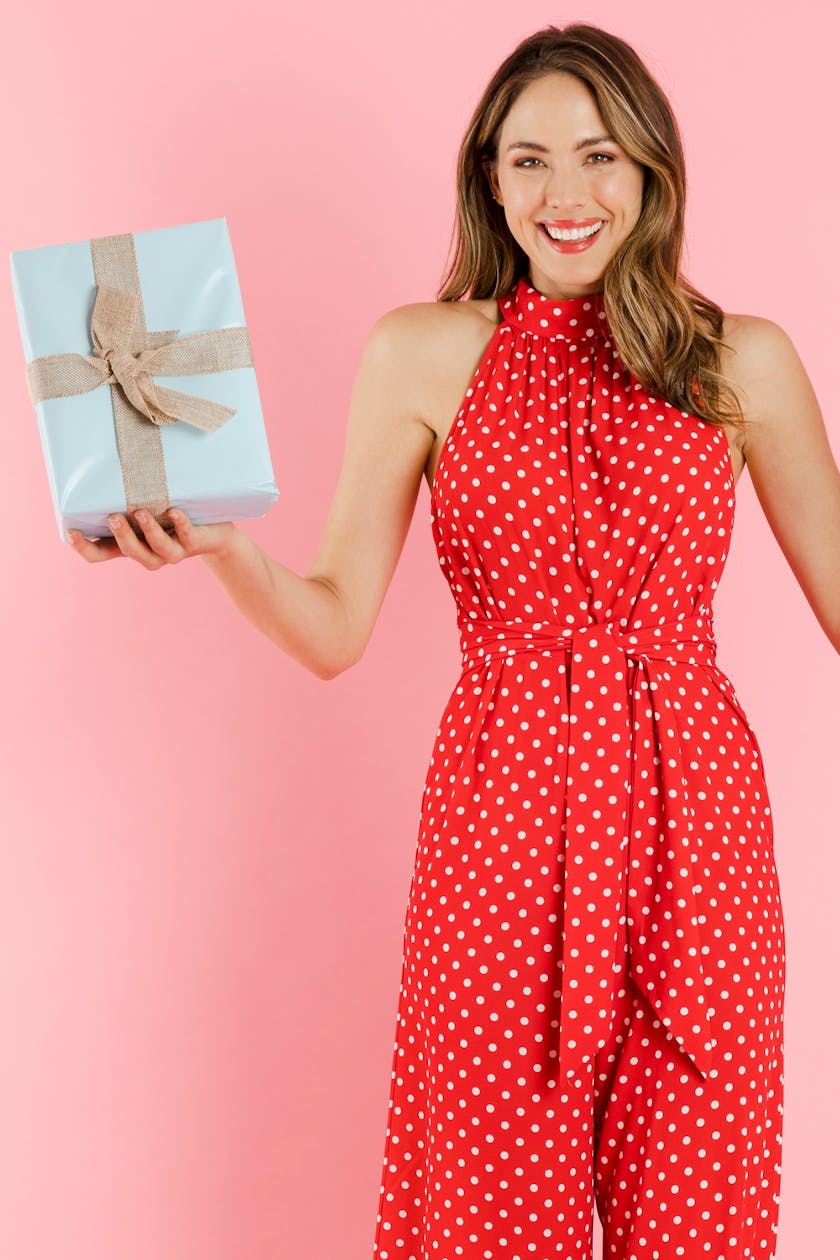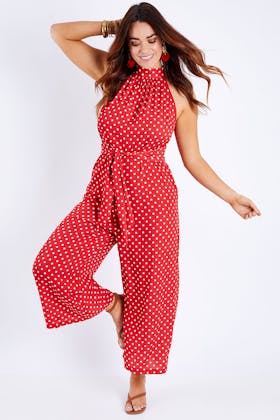 This jumpsuit is quite literally called the Lets Get Festive Jumpsuit, and that's exactly what this piece invites you to do! Perfect for a Christmas party, or simply Christmas dinner with the family, this outfit will have you feeling free to move and oh-so fabulous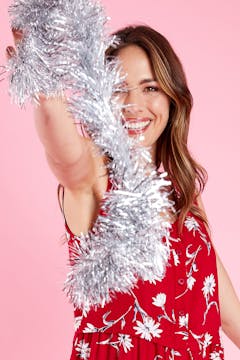 Shop by Christmas
Our birdsnest elves are working away every day to put together the perfect range of Christmas outfits. You can shop all of these in one place on our Shop By Occasion Christmas page!
GET IN THERE
Love, the birdsnest girls x